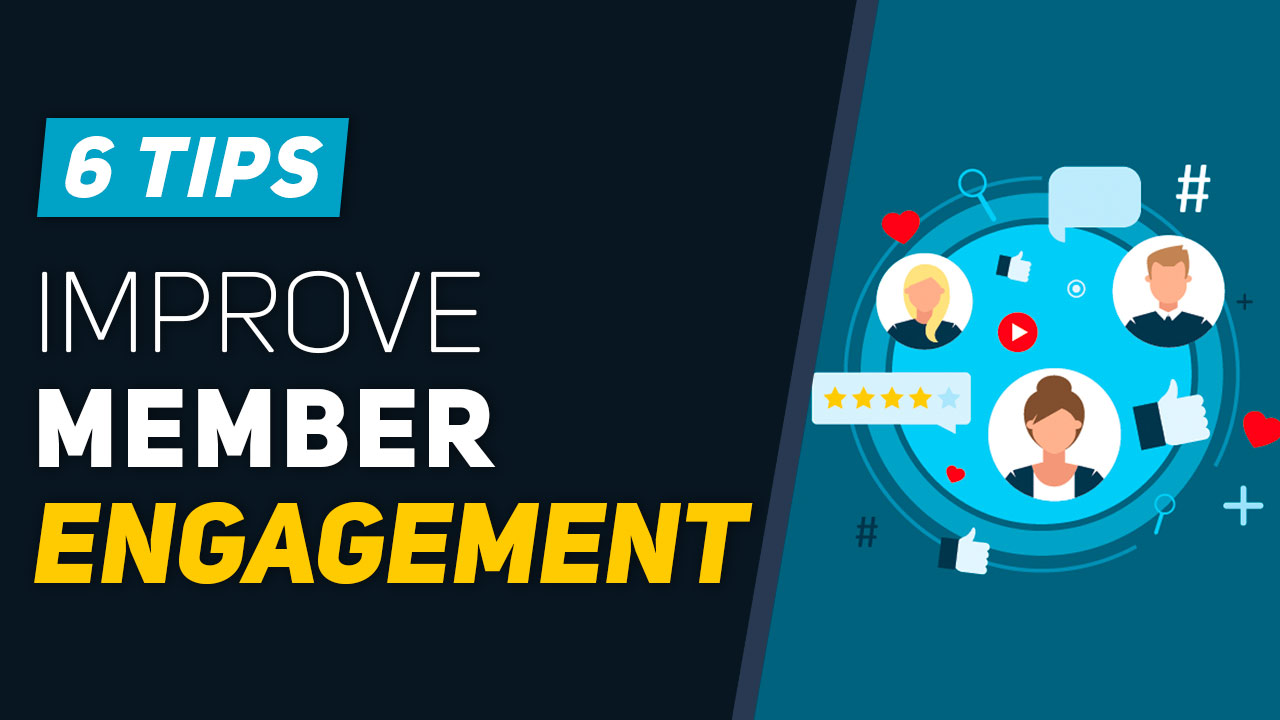 While many membership websites focus on attracting new members, increasing member engagement and reducing customer churn should also be a priority.
When asked why they end their membership, 32% of respondents said it was too pricey, 19% said it offers little value, 13% claim they can get the same benefits elsewhere, and 12% cite a decline in benefits.
So how do you keep up with member expectations? The answer lies in a successful member engagement strategy. When employed effectively, member engagement tools can help with both member acquisition and member retention.

Looking to create a winning membership engagement strategy? We're here to help. We've gathered the best practices to keep your members loyal and engaged.
VIP Membership Options
Many successful service providers offer different levels of membership. Allowing your members to get premium experiences for an extra cost has the potential to boost your member engagement. Define which content and features can be accessed by premium members only.
For example, you can offer additional options, like ad-free content, extra on-site tools or freatures, pre-orders, and early access to limited products or services.
Another way to employ VIP membership is by offering it to the most loyal members as a gesture of recognition. If some of the members have been loyal to you for years, it's worth reminding them how appreciated they are.
Allow your customers to test drive premium memberships by offering free trials or special discounted rates by providing them with a coupon code.
Offer Something Extra
93% of US customers note that extra benefits play a crucial role in their decisions to purchase products. Offering a little something extra has great potential to increase your member engagement. Extended benefits can increase your value and stimulate customers to purchase more of your products or services as well as share your community with friends on their social networks.
For example, you can offer different coupons, savings, and discounts to your new members via email. Alternatively, you can offer free content, like blog posts, tutorials, and "useful tips" articles. Use the help of name generators if you're struggling to come up with creative blog names.
Providing extra benefits at the beginning of your member's journey is a great way to thank them for becoming members and increase customer loyalty in the long run.
Human-to-Human Communication
It's important to keep all of your communication channels open and accessible to your members. Allow your members to choose their preferred way of reaching you by offering multiple forms of communication. Make sure your customers can reach you via phone, email, text, social media, website, snail mail or whatever other form of communication is relevant in your target industry.
Bring life to your website and company by offering human-to-human communication. It will add to the emotional connection with your members and increase engagement.
For instance, sending emails from an actual person's name rather than just your website's name can have a massive impact on member engagement. Find a way to connect your real customer service reps (or yourself), not chatbots, with your members when they have any questions or concerns.
Hosting a conference or an awards ceremony and inviting your members in can also contribute to their engagement. There is no need to hold regular meetings, but hosting an annual event will help you maintain a sense of community and add value to your organization – even if it's an online event.
Member Onboarding
Member onboarding is the process of helping your customers to acquire information and skills needed to get the most out of their membership. It's important to have a system in place for managing and improving customer experiences.
Here are some useful member onboarding methods:
Making your new members feel valued by sending welcome emails.
Sending a getting started guide with detailed instructions for using your website.
Letting your members know that your communication channels are open.
Creating walkthrough videos and tutorials to introduce your service and its features.
Designing an email sequence that'll gradually suggest members to take advtange of your website's features.
Personalized Content
Don't underestimate the effectiveness of personalized and relevant content. Studies show that 80% of customers are more likely to do business with companies that offer personalized experiences. That's why you shouldn't wait to create a strategy for creating personalized content.
It's important that you segment your audience based on demographics and then create different strategies to target those segments. Younger members require different kinds of targeting and messaging than older members. Delivering to multiple segments will keep your members engaged and committed to your service.
This, of course, can be a big and resource-intesive understaking. New and younger online communities probably don't need to worry much about this. However, once your community begins to take off, personalized and targeted email campaigns may be a useful strategy to look into.
Cause-Related Marketing
Cause-related marketing (CRM) is a marketing strategy employed by for-profit organizations that establish and maintain a long-term relationship with non-profit organizations.
This strategy may seem a little out of the ordinary, but modern consumers do respect charitable causes, as 72% of Americans say it's important that the companies they buy from do reflect their values.
This typically goes hand-in-hand with membership websites. However, if you're looking for another edge or something to help your website stand out, try to find a charitable cause to support and share your compassion with your members. You can start with something as simple as volunteering or supporting a local non-profit.
Transparency is key in cause-related marketing. In order for your efforts to be effective in engaging members, customers must feel that they are real and authentic.
Wrap Up
By consistently keeping your members satisfied, you'll get greater member retention, engagement, and loyalty.
Allow your members to get premium experiences. Spoil them with extra perks and benefits. Make sure they have access to human-to-human communication. Build a sense of community. Employ onboarding to guide new members. Create personalized content for different segments of your audience. And finally, utilize cause-related marketing as a part of your company's "social responsibility" policy to show your members that you care.
The Elevator Pitch
Why Choose Brilliant Directories
We'll make it short and sweet:
We Know Membership Sites — We've taken care of all the heavy lifting so you can focus on growing your membership community and getting users signed up.
Access to Expert Support — We know you have questions... Our dedicated support team works 'round the clock to quickly resolve any technical issues.
Trusted by 30,000+ Websites — With over 10 years of experience, we understand the unique needs of online membership communities.