Free Trial Period
Free trial periods are an excellent way to build trust with new potential customers and boost conversion rates.
The Free Trial Period add-on allows you to define a number of free trial days for each paid membership plan. Credit card info is collected upon signup and if the user does not cancel then they will automatically be charged after the free trial period ends.
---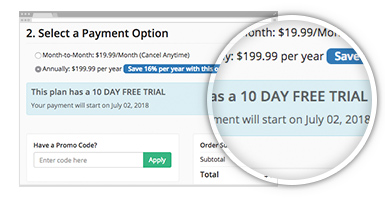 Key Features & Benefits
Increase paid membership signups
Add a free trial period to individual membership packages
Choose how many days the trial period lasts
Trial info is automatically displayed on checkout pages
Customers are still required to provide credit card info
Customers are automatically charged once their trial ends
Customers are not charged if they cancel before their trial ends
---
Who Is This For?
Regardless of your industry, the try-before-you-buy sales method simply works. AOL used free trials to attract early Internet users in the late '90s; the Wall Street Journal now offers free trials to increase the number of subscribers for the online version of its flagship newspaper; Netflix offers a one month free trial… the list goes on.
Free trial periods are effective because they give potential customers a glimpse of what they are about to buy. Crafting the perfect landing page or blog post is important to get people interested in what you are offering. But by also providing a free trial you allow users to experience your product/service first-hand.
With the Free Trial Period add-on, although customers will not be charged until their trial period ends, they are still required to provide their credit card information during the sign up process. When credit card details are collected up-front, paid membership conversion rates can increase by 50%
---
---
MAXIMIZE THE VALUE OF THIS ADD-ON
Book a 1-hour strategy session to review your website with an expert. Learn More