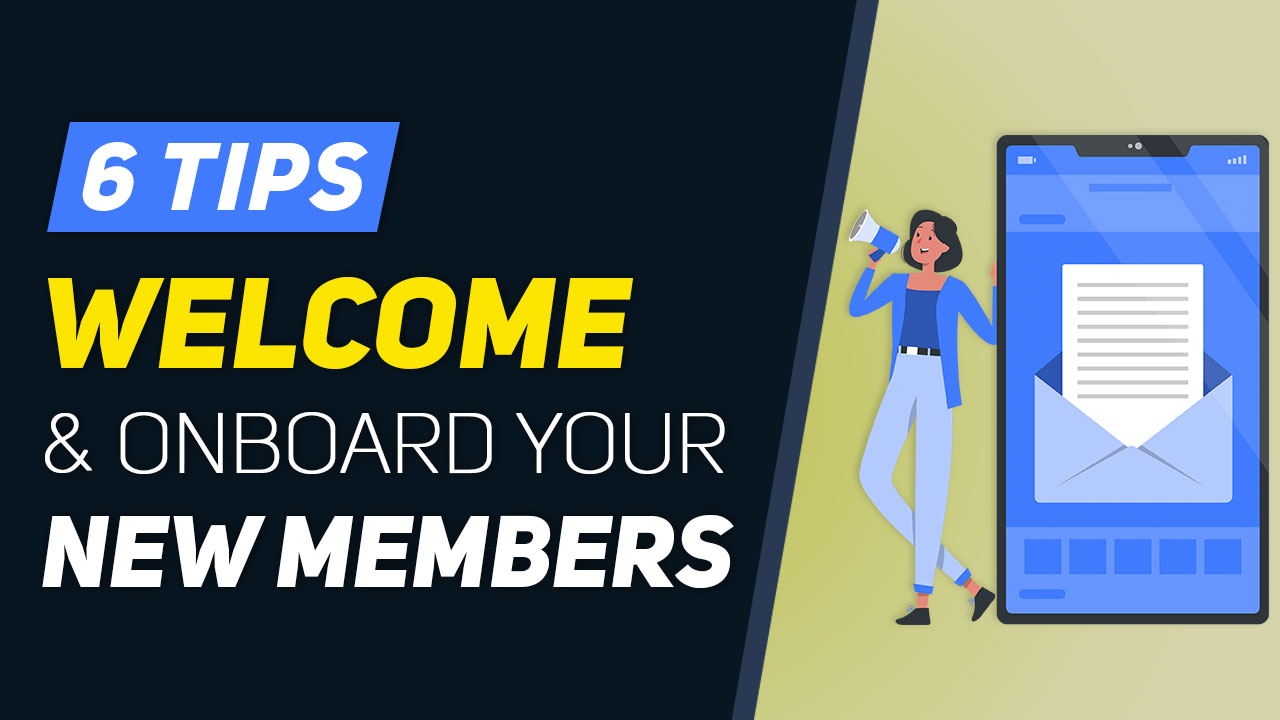 ---
Properly welcoming new members to an online community is an often-overlooked step in the user engagement process. Many websites forget to welcome new members or send out half-baked emails that don't go the extra mile to make users feel welcome. However…
Welcoming new members is a vital part of driving long-term community engagement.
Why It's Important to Welcome New Members
Everyone browses the internet, and many people fill out engagement forms on a whim. At this point, they've reached a crossroads: whether to follow your community or forget that they even joined. You have a short window of time to engage this new member and make them feel welcomed into your group as well as build a long-lasting relationship.
Before Welcoming New Members
It's important to know what you are going to do before you begin trying to welcome your new members. The most important thing is to know what you stand for! Follow these four guidelines to help new members understand your value and services:
Define your audience or audiences
Define what problem you're committed to solving
Define expectations you promise to meet
Decide whether you will use automated or hands-on engagement
Benefits of a Quality Welcome Plan
The benefits of having an excellent welcome plan and engaging your users should be apparent; it increases investment and engagement in your community. There are five key benefits to welcoming your members:
Continued participation after initial signup
Demonstrating that you're an industry leader
Higher probability for upgrades
Getting members involved and participating
Lower churn rate and fewer cancellations
What Happens Without a Welcome Plan?
Skipping out on a welcome plan may seem tempting, but you're taking a significant risk by not engaging with members at this crucial first step. You're missing out on easy wins! Five important things can happen when you're not prepared with a welcome plan:
Leaving new sign-ups out to dry
Less overall engagement because people forget about you
Missing opportunities to connect and educate
More abandoned or canceled memberships
Expensive consequences and your community will grow much slower
But Don't Worry, It's Not That Hard!
The prospect of a welcome plan may seem daunting, but in reality, once you have the plan in place, it mostly takes care of itself. An excellent plan will do all of the heavy lifting for you and take away the stress of greeting new members.
If you put in a small amount of work upfront to create a simple but effective welcome plan, your plan will do all of the work to develop those primary relationships and improve community engagement. Developing relationships will go a long way to building up your site and the membership of your online community.
Goals of a Quality Welcome Plan
Your goal with your welcome plan is to create a loyal following that will engage with your website frequently and continue to do so over time. The welcome plan is the first step in creating this loyalty. New members are just getting their feet wet with your content, and you want to give them the next steps to build up a strong relationship. Your welcome plan should:
Help members feel confident about their decision
Show them what to do next, such as engaging with or adding content
Give them more opportunities to participate
Shower them with more than they expected
Introduce additional communication channels like Facebook, LinkedIn, Twitter, or their RSS Feed
Types of Welcome Plan Follow-Ups
There are many things you can do to welcome and engage your community after they've joined. Stay within your comfort level, and don't push yourself to engage in ways you don't think will be effective with your audience. You can use any combination of the following types of engagement to welcome your members after they have joined:
Powerful "Thank You" page after sign up (with resource links)
Initial welcome email after sign up
Direct phone calls (hands-on vs. automated)
Ongoing emails and newsletters
Local meetups for different types of users
Webinar instructions on how to engage with the site (pre-recorded or live)
Welcome Plans Include Your Best Assets
You want always to put your best foot forward when introducing your site to new members, which means putting in the work upfront to have your website ready for new members when they join. Make sure the copy and the assets are there for you to show off. You can provide several resources to new members that will help them get a handle on how to engage with your community:
Exclusive invites to additional communication channels (Facebook, LinkedIn, Twitter)
Quality articles that provide high-value insights into your industry or field
Video tutorials on how best to use and engage with the community
Free how-to guides, checklists, and resources
Member showcases with guides for how they can be showcased too
Explain why they should take action. Incentivize them!
Easiest Things to Do Now
So, what parts of this strategy can you implement today? The most critical steps are what will create the most value for your members and your site. A little bit of effort goes a long way to creating a positive, valuable experience. Prioritize the following steps to get the most value out of a welcome plan:
Create content and resources with real value
Update your welcome email—and do it today
Explain the benefits of membership and what to do next
Share your best content and resources right away
Invite members to other channels to stay connected
Keep the conversation going
How to Edit Your Welcome Email Template
When updating your welcome email, keep email copy best practices and techniques in mind. You want to create the best possible email that will convince them to visit again and again and stay subscribed to your service. Use the following tips in welcome emails, especially in all your email campaigns to help retain members:
Create urgency through FOMO (Fear of Missing Out)
Make them feel like part of your community
Use key stats as social proof of your value
Use enticing content to draw them in
Focus on the benefits of your site, not the features
Go for positivity over a hard sell mentality
Hopefully, now you understand the importance of creating a welcome plan for new users and implementing it effectively. Putting into effect an excellent welcome plan will go a long way towards building engagement and member loyalty if done right.
---
This is a segment from Webinar Wednesday 53, recorded live on November 21, 2018.