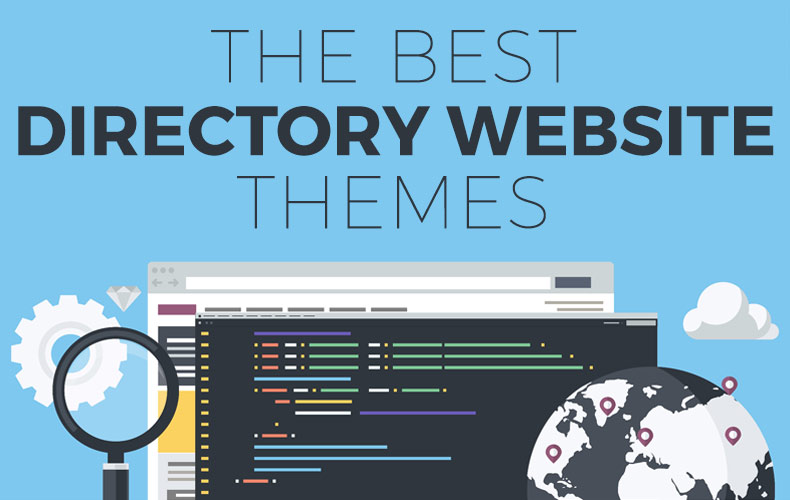 Directory Software Reviews:

eDirectory vs. WordPress Directory Themes Templatic & Listify vs. Brilliant Directories

Finding the best website directory theme or software is more difficult than it should be.

Crazy isn't it?

With hundreds of directory themes, plugins, and software options available – trying to select one for your project can make your head spin.

It shouldn't be this way.

If you're looking for a reliable and feature-rich directory software, then look no further. We've identified the 4 best options and compared them side by side for you.
So, what's the best directory software?
Let's find out!
Online directory websites are growing in popularity because it's recently become so much easier to launch these sites thanks to easy directory software and simple online directory themes. Many of these themes run on WordPress. We will discuss the benefits and the negatives of starting a WordPress directory website along with why a dedicated directory platform might be your best option.
In this article, we will review the main features of the two most popular WordPress directory themes: Listify and Templatic's Directory Theme. We will also review the two most popular dedicated directory website building platforms: eDirectory and Brilliant Directories.

What is a Directory Website?
There are hundreds of popular directory websites that millions of people use every day.
The two most popular online directories are Yelp and Angie's List. Both of these websites list businesses and allow consumers to connect with these businesses. Yelp focusses on a variety of industries – the most popular industry being restaurants. Angie's List connects consumers with top-rated home repair professionals.
Yelp has been around since 2004, and Angie's List since 1995. Both websites have millions of users and most importantly… generate hundreds of millions of dollars in revenue.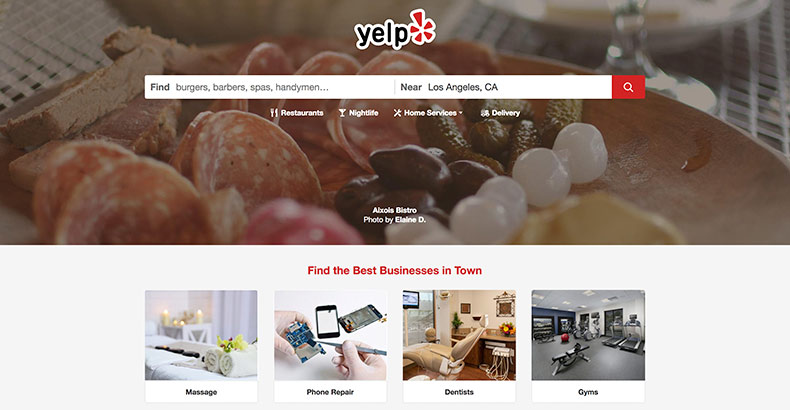 Do You Even Need a Directory Theme or Software?
Before you start shopping for different solutions, let's first identify if a directory script is what your project needs.
If you answer yes to any of these questions then you probably need a directory software solution:
Do you want members to register and join your website?
Do you want visitors to search and find members on your website?
Do you want to bill members monthly or yearly?
Do you want members to contribute content to your site, such as business listings, articles, photo albums, classified ads and more?
Starting a directory website is one of the best ways to manage and grow an online community.
What are the Benefits of Directory Websites?
You can target a specific niche to hyper-focus your directory or membership site.
You can manage large groups of free or paying members.
Online directories that focus on specific industries make life easier for consumers and are commonly featured in search results – You can attract high quality traffic to your site with minimal marketing and advertising efforts.
Businesses and professionals that pay to be featured on your website will not only provide you with revenue, but will also populate your website with valuable data that will help you rank high in search results.
Directory websites contain huge amounts of data that search engines love. This data is provided by your members who have listings on your website. This is an effortless way to skyrocket your SEO (search engine optimization).
You can focus on an industry you are passionate and knowledgeable about. For example, if you love trying new restaurants then you can start a directory of restaurants.
You can also focus on an individual location. Creating an online directory of businesses in a specific city, like your home town, can be a valuable and profitable consumer resource.
You won't believe it but here's the truth:
With the available options for directory software on the market, creating a directory website is now easier than ever – you just need to find a software that you're comfortable with.
Directory and membership websites can be launched in a matter of hours thanks dedicated platforms like eDirectory and Brilliant Directories.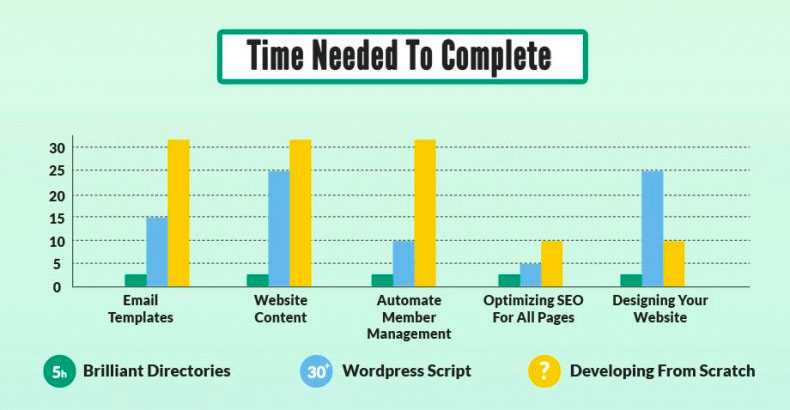 Versatile DIY solutions like WordPress are a good and inexpensive option. However, they still require you to find a good theme such as Listify or Templatic's Directory Theme. You also need to manage your own hosting and find corresponding plugins to create a cohesive and engaging user experience.
Are you willing to manage your own server, hosting, security and more? If you are, then WordPress themes might be a step in the right direction.
But if you're looking for a hassle-free way to launch and manage your directory website, then a dedicated platform such as eDirectory or Brilliant Directories will be the quickest and easiest way to start your directory project. This is because they typically include all the features and hosting you will need from the start.
How to Start a Directory Website for Cheap: WordPress
We're often reminded that you get what you pay for. Now that's not necessarily a bad thing. If you're starting with a new website idea or are on a tight budget, then initially spending the least amount of money might be the way to go.
WordPress continues to grow in popularity for launching websites outside the realm of just blogs. With the help of third-party themes and plugins, WordPress can be used to build e-commerce stores, membership sites, directory sites and more.
With any WordPress theme, the three areas of difficulty will always be:
Hosting and Security – You will need to find your own hosting provider who hopefully offers some level of security for your members' data. Popular hosting providers are GoDaddy, Network Solutions and HostGator. They vary in pricing and offer different levels of security.
Scalability – Depending on your theme and hosting provider, you might find that effectively servicing your community past a certain point could become difficult. WordPress may begin running slow depending on how many members you have, how much content is hosted on your website, etc. After all, WordPress was designed as a blogging platform. Using a tool to accomplish a task that it wasn't specifically designed for can often be troublesome.
Source Code Access – WordPress sites and themes are comprised of dozens of PHP files. If you're an experienced web developer this probably won't be a problem. But even if you know basic HTML, CSS or PHP, sifting through all the files to edit certain strings of code can be difficult and time consuming… but it's not impossible.

Now that the WordPress basics are out of the way… let's review the two most popular directory WordPress themes: Listify and Templatic.
Can You Manage Members with Listify or Templatic?
Listify is one of the leading versatile listing directory themes for WordPress. If you want to launch an online business directory, individuals can create an account on your site and then list their business(es). You can then manage these listings and members from the familiar WordPress admin panel.
These businesses can then manage their own listings, add business details, contact info, images and more. Visitors can rate and review these listings – a great feature that promotes trust and increases your website's SEO value.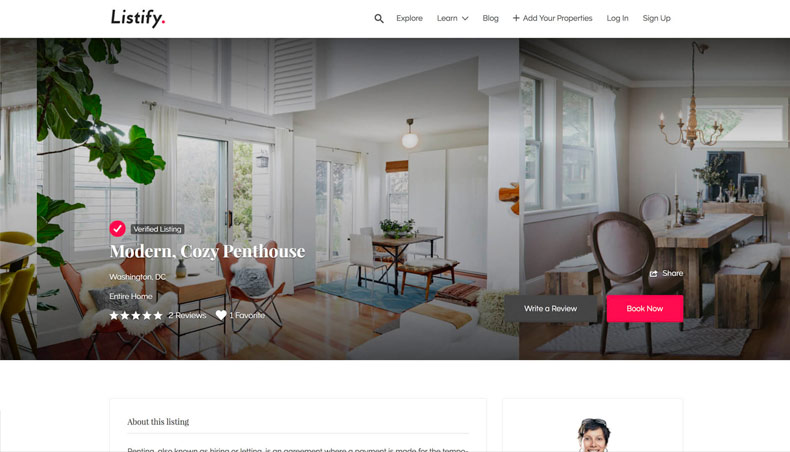 Templatic's wide array of themes allow you to add and manage user accounts and their listings in much the same way Listify does… after all, they're both powered by WordPress. Users will also have their own dashboard, allowing them to manage their accounts and listings on their own.
Just like with Listify, Templatic also allows members to add business details, contact info, images and more. Users are also able to rate and review listings.
Both Listify and Templatic also have integrated Google Maps – a great feature that allows users to see on a map where listings are located, how far away listings are located from the searcher and it adds an aesthetic and interactive feature to the website.
How to Generate Revenue with Listify and Templatic
Listify utilizes the WooCommerce WordPress plugin to process payments and manage much of the monetization avenues. WooCommerce is a third-party plugin and is compatible with PayPal, Stripe, Authorize.NET and many other payment gateways.
Yes… this means you'll need to download and install more third-party plugins and continue to hope that they all work harmoniously together. On that note, constant WordPress and plugin updates and compatibility issues are the top reasons you may want to stay away from any WordPress directory theme, simply because they are almost never all-in-one and heavily rely on plugins from other developers.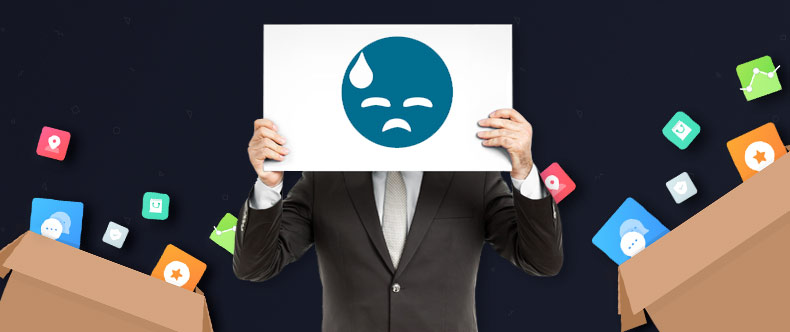 You can create member subscription, one-time payment fees, charge for ad space and more with WooCommerce. However, Listify does not have a banner ad manager nor can you generate leads and charge your members for them. Listify is still a great option, but this is a big miss when it comes to generating revenue.
Templatic utilizes an in-house plugin, Tevolution, to process payments using PayPal, Stripe, Authorize.NET and other gateways. Templatic's themes are also compatible with WooCommerce so you'll be able to do everything Listify allows you to do and then some – such as managing banner ads (with the help of their Ad Manager plugin). But like Listify, you won't be able to sell leads to your members.
Are Listify and Templatic Mobile Friendly?
Listify doesn't explicitly say that their theme is mobile responsive, though they do include mobile device fixes in their updates. With more than half of all web traffic coming from mobile devices, it's paramount to have a mobile-friendly theme. Listify might be just good enough to pass on mobile.
In the other corner, Templatic makes it a point that their themes are completely mobile responsive. This means they'll function just as well on small screens as they do on a typical computer monitor.

Are Listify and Templatic SEO Optimized for Google?
Listify is a beautiful but relatively bare bones theme. You'll be using WordPress so you do have access to hundreds of proven SEO plugins, but Listify doesn't do too much on its own to ensure your entire site, including dynamic search result pages, are optimized to rank well in search engines like Google or Bing. You can, however, manually create SEO optimized landing pages.
Templatic makes it a point that their themes are developed with the newest SEO standards in mind. And again, because it's powered by WordPress you will still be able to install any of the latest and greatest SEO plugins.
It's important to keep in mind: Listify and Templatic are only themes. So, while they do have enhanced functionality, you will need to rely on several additional plugins to ensure your online directory is functioning properly and that it's able to outperform competing directory sites.
How Much Does Listify Cost?
Listify costs $69 – this includes the theme, 6 months of technical support, support documentation and automatic updates. But here's the catch… for full functionality, you will need to spring for their Add-On Bundle which costs an additional $79.

How Much Does Templatic Cost?
Templatic costs $89 – this includes the theme and 1 year of updates and support. For continued updates and support, you will need to renew your theme license each year at a discounted rate. But again, for total functionality, you will probably want to purchase Templatic's plugins pack which costs $299.

So you might have noticed…
WordPress themes tend to require many plugins from other developers for full functionality… these themes usually work, but they're put together much like Dr. Frankenstein's monster – some components taken from here, some taken from there – and compatibility is not always guaranteed.
Start Your Site the Right Way: eDirectory vs. Brilliant Directories
Continuing with the theme of you get what you pay for, eDirectory and Brilliant Directories are a bit more expensive than WordPress themes, but these platforms are specifically designed for managing directory and membership websites.

These two solutions have far more built-in features, greater scalability, dedicated support teams and more… all of which doesn't require dozens of extra plugins for basic functionality.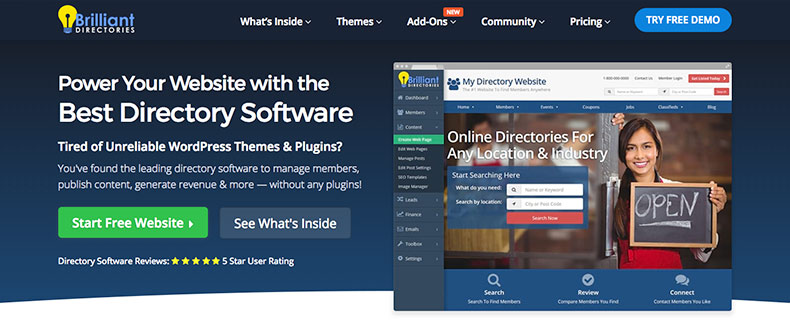 eDirectory vs. Brilliant Directories: Hosting & Scalability
Both platforms are cloud solutions and provide hosting for your online directory website. This means you don't need to worry about purchasing a hosting plan with a company like GoDaddy, Network Solutions or HostGator.
eDirectory and Brilliant Directories also offer enhanced hosting and dedicated servers. This is ideal for the future if you plan to substantially grow your online community. And both services guarantee support for thousands of members.
eDirectory vs. Brilliant Directories: Member Management
eDirectory allows you to manage your members, listings and content from your admin portal. Members also have their own account portal where they can manage their accounts. In addition to the members' listings, they can also post deals, events, classifieds and articles. Like with all directory templates, business listings can be rated and reviewed and have integrated Google Maps.

Brilliant Directories is like eDirectory in that you can manage all your member accounts and content directly from your admin panel – your entire website is managed from this area. You can deactivate certain accounts, view payment information and more.
When it comes to content, with Brilliant Directories you can manage your members' listings, deals, events, classifieds, articles, products, job listings, properties, photo albums and reviews. Again, business listings can be rated and reviewed by users and Google Maps is an integrated feature.
Like with eDirectory, Brilliant Directories also has built-in member dashboards where members can login and manage their account, payments, content and more.

eDirectory vs. Brilliant Directories: Generating Revenue
eDirectory and Brilliant Directories both include similar features when it comes to generating revenue. The major payment gateways (PayPal, Stripe, Authorize.NET, etc.) are supported by both platforms.
Both platforms allow you to sell and manage banner ads, generate and sell leads, create and manage recurring memberships or one-time payments for memberships, listings and more.

eDirectory, however, only lets you create up to 4 membership levels. This could be a major limitation depending on your business model. Brilliant Directories does not limit how many membership levels you want to create.

eDirectory vs. Brilliant Directories: Mobile Responsiveness
As previously mentioned, having a mobile-friendly website is essential now that the majority of web traffic comes from mobile devices.
eDirectory and Brilliant Directories websites are both mobile responsive. Websites running on either platform will look and function great on smart phones and tablets. Members can also login and manage their accounts from mobile devices.

eDirectory has an additional offering – an Android app builder for your website. While this can be a useful tool, it can take more work than it's worth to get set up. The websites are already mobile responsive, so there isn't much use in requiring your users to download a separate app to use your website. It also does not support iPhones.

However, if this is something you are interested in, Brilliant Directories does show you how to quickly create both an Android and iPhone app for your website.
eDirectory vs. Brilliant Directories: Search Engine Optimization
SEO is another important aspect to consider for your new website. A well optimized website can easily outrank a poorly optimized site in search results.
eDirectory allows you to edit page titles, meta details and keywords. It also has structured data markup and a sitemap generator.
Brilliant Directories has directed a lot of resources toward their SEO tools (Brilliant Directories was actually started by two SEO experts). All webpages are powered by dynamic SEO templates which utilize variables. This means any page on your site will automatically be optimized for search engines.
If you want to dig into the weeds and further strengthen your site's SEO, you can customize the default SEO templates, create new templates for custom pages to follow, or you can edit SEO elements on a per page basis.
eDirectory vs. Brilliant Directories: Source Code Access
Both platforms are developed specifically for people with any level of website administrative knowledge. Point-and-click settings make everything easy for novices.
If you're a developer, Brilliant Directories does offer source code access for you to further customize your website. eDirectory, on the other hand, only offers source code access in their Enterprise Source License.
How Much Does eDirectory Cost?
eDirectory offers 4 website plans which increase in price as more features are accessible.
Professional Cloud Service – $99/month (includes hosting)
Enterprise Cloud Service – $199/month (includes hosting)
Enterprise Source License – $1,499 one-time + $29/month for eDirectory hosting
All eDirectory plans include unlimited email support except for their Enterprise Source License, which includes only 30 days of support. Support documentation, video tutorials, and free onboarding are available.
eDirectory reviews are, for the most part, favorable. Where eDirectory tends to lack, according to user ratings, is their customer support. They do have some less than favorable ratings, but overall eDirectory reviews are relatively positive. It would be wise to give the eDirectory demo a try prior to making any purchase.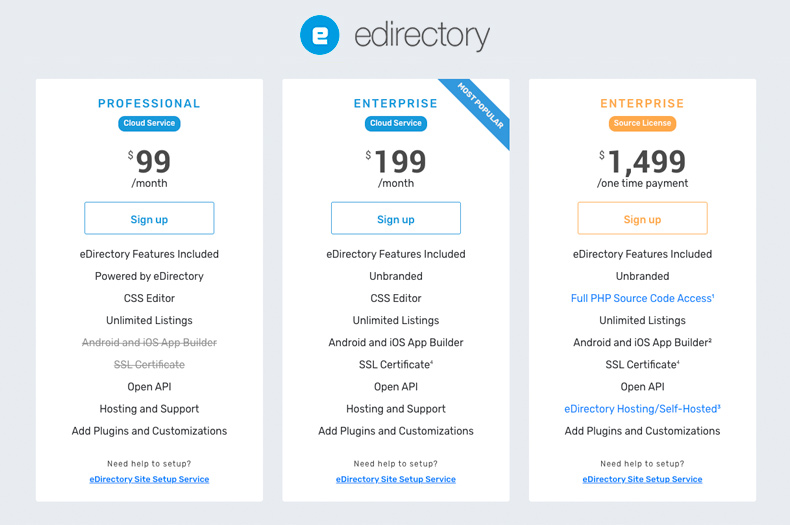 eDirectory's rating on TrustPilot is 4.6/5 from 180+ reviews. Capterra has eDirectory rated at 4.4/5 from 60+ reviews.
How Much Does Brilliant Directories Cost?
Brilliant Directories offers 3 website plans. All plans include the same features, the only difference is the payment frequency. Their sales agents have also been known to be flexible on pricing and offer special discounts depending on your website needs.
Monthly Plan – $145/month (includes hosting)
Yearly Plan – $905/year (includes hosting)
Lifetime Website – $1,450/year (includes lifetime hosting)
All Brilliant Directories plans include unlimited email support, support documentation, video tutorials, a community forum, private Facebook group and weekly webinars. Optional website setup services are available.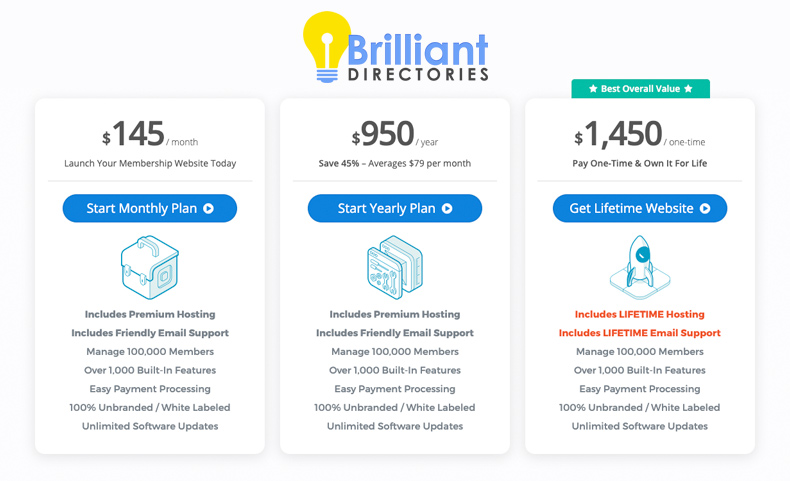 Brilliant Directories' rating on TrustPilot is 4.7/5 from 315+ reviews. Capterra has Brilliant Directories rated at 4.7/5 from 550+ reviews.
Which online directory software is the best?
The best directory website solution for you will depend on your website idea. There's no clear-cut answer for this. BUT, if you're concerned with features, scalability, long-term effectiveness and customer support, then you can't go wrong with eDirectory or Brilliant Directories.
These two platforms are designed and updated specifically for managing directory and membership websites. They are more expensive than WordPress themes, but you get what you pay for.
The Elevator Pitch:
Why Choose Brilliant Directories
We'll make it short and sweet:
We Know Membership Sites — We've taken care of all the heavy lifting so you can focus on growing your membership community and getting users signed up.
Access to Expert Support — We know you have questions... Our dedicated support team works 'round the clock to quickly resolve any technical issues.
Trusted by 20,000+ Websites — With over 10 years of experience, we understand the unique needs of online membership communities.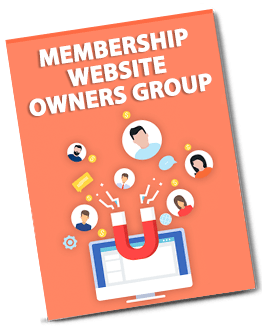 Do You Run a Membership Site?
Join our exclusive Facebook group – FREE – to access proven strategies for growing your membership community. Space is limited, so join today!
Join the FACEBOOK Group