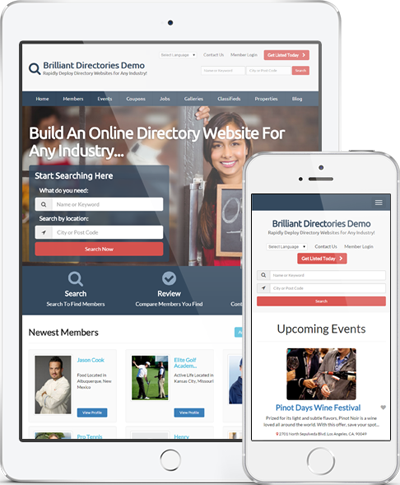 Your Site Is Ready For Mobile!
With over 30% of web traffic coming from mobile devices, having a mobile-friendly website can push you ahead of competitors. Luckily, Brilliant Directories is a 100% "Mobile-First" solution. The result? Websites built on Brilliant Directories look stunning on all devices at all times.
Ready for Android & iOS App Stores
Because your Brilliant Directories website is 100% Mobile-Ready, you can easily transform it into a mobile app without any additional coding or configuration. It's the perfect plug-n-play solution that integrates with dozens of popular app builders.


Watch Video Tutorial
Turn Your Site Into a Mobile App
Because every Brilliant Directories website is already mobile-ready, they can easily be transformed into professional apps in less than 5 minutes. NO CODE KNOWLEDGE REQUIRED.
You're ready to go from day one – saving you time and money.
UPDATE: The Como app builder shown in this video tutorial was acquired and eventually shut down by the parent company. However, the same logic in this video can apply with any other app builder, including the alternatives listed below.
Integrate With Popular App Builders

And Many Many More…