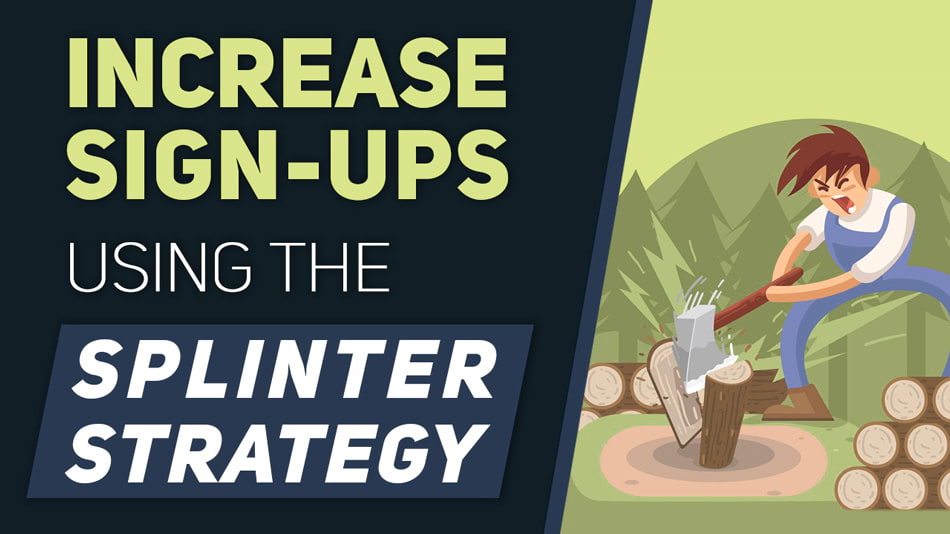 It can be challenging to website memberships depending on your business model. With memberships, you may find it difficult to get specific in your marketing and target specific benefits your website and/or community has to offer.
What Is a Splinter Strategy?
This is where the splinter strategy comes into play. What is a splinter strategy? Splinter strategy is a marketing and sales strategy where you take one feature from your membership website and make it available for purchase as a single product or service. However, when you are selling it, you sell it in such a way that makes joining your membership a preferable option in contrast to purchasing that single feature.
For example, you may providing your free members with the option to either pay for each post they publish on your website, or they can upgrade to a monthly membership subscription which includes unlimited posts. Most people will probably start on a free membership and pay for each individual post they publish on your website.
However, if they begin to see the value in the benefits that your website offers them, they will most likely choose to upgrade to a recurring monthly subscription which includes free, unlimited posts. On your registration page you can even breakdown the potential savings that your monthly membership option provides compared to the pay-per-post option. This is known as price anchoring. Here you are providing two different purchasing options of your "product" side by side.
Increase Sales with Price Anchoring
Using the splinter strategy in order to sell more memberships is highly effective. This is primarily due to price anchoring. The way in which you provide two (or more) buying options to your customers side by side can help you to drive prospective customers towards the one particular choice that you ultimately want them to make – purchasing a premium recurring membership plan.
This approach will help you communicate your website's offerings with customers as well as increase the perceived value of your product or service which is incredibly powerful when it comes to sales and marketing.
Marketing Your Website's Membership Features with the Splinter Strategy
Another great benefit of the splinter strategy is that it allows you to focus in on specific elements within your marketing plan. One of the biggest challenges with the marketing aspect of membership websites is that they tend to provide many different services and offerings.
How to best market a membership websites varies greatly depending on the industry, niche, services offered and many other variables. However, typically you won't want to focus on just one specific feature that your website offeres its members because not discussing everything else your website has to offer can limit your potential marketing audience.
On the other hand, you don't want to go into great detail about every single service and benefit your website provides… this can be overwhelming and confusing for your prospective customers. They key is to find the sweet spot somewhere in the middle – usually around 3-5 main items that the majority of your target audience is looking for.
Implementing the splinter strategy can help you decide which website features you should be marketing. It will force you to focus what is the end results your members will be seeing with respect to a small handful of specific features included with your online community website.
When sending out your marketing emails, you don't have to include every feature and benefit that your website provides. Simply hammer home those 3-5 main benefits of your available membership plans without placing too much focus on the minutia. Now when people are ready to purchase a membership, the price anchoring will do its magic.
Not only will it help increase your membership sales by making your offering clear to highly motivated buyers, but it also allows you to collect additional revenue from users who simply wish to signup for free and pay-per-post. There are many reasons why people may wish to pay-per-post instead of purchasing a monthly subscription – they might already be paying for too many subsciption services, they might simply want to test your membership community prior to comitting to a membership, etc. Either way, by utilizing a pricing model like this based on the splinter strategy, you can maximize your chances of collecting revenue from both types of users.
The Elevator Pitch
Why Choose Brilliant Directories
We'll make it short and sweet:
We Know Membership Sites — We've taken care of all the heavy lifting so you can focus on growing your membership community and getting users signed up.
Access to Expert Support — We know you have questions... Our dedicated support team works 'round the clock to quickly resolve any technical issues.
Trusted by 30,000+ Websites — With over 10 years of experience, we understand the unique needs of online membership communities.