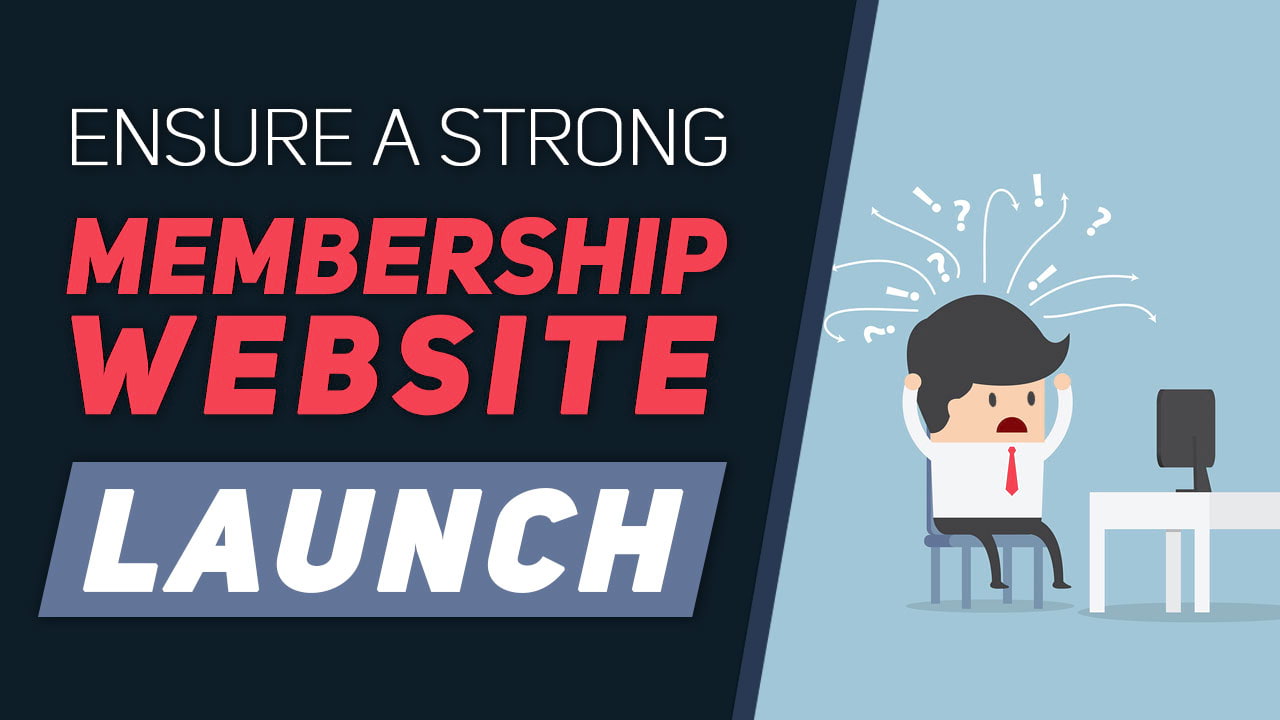 There are many appealing reasons why people decide to start their own membership sites such as a passive revenue stream, building a community around a field you're passionate about, growing your online influence and many other reasons. However, just because there are many good reasons to start a membership website does not mean that it's always going to be easy.
You could be creating quality content, designing social media posts, writing free guides and making tutorial videos, and still find that your member community isn't meeting your initial goals.
Below we are going to review the five most important questions you should be asking yourself if your membership website has had a weaker than ideal launch. It doesn't mean you need to move on to something else… you may simply need to rethink certain elements of your community.
With proper preparation, success is achievable!
Is your product attractive and worth buying?
One of the most common mistakes made by people is to think that a good marketing strategy is going to be the only requirement for success. The truth is that a skilled marketer can sell anything, but a product with low demand is going to be ten times harder to sell. Make sure that whatever it is you are trying to sell is actually going to have a market for it.
Does Your Target Audience Need What You're Offering?
Now, you may have an excellent product, but you could be having problems finding the right audience for it. If you are not targeting the right people, you could have the most amazing product and the won't care for it. Make sure that you are targeting your marketing efforts. If you are not doing this, you are just waiting for a lucky strike that may never happen.
Keep in mind that even if you have an audience already, you are going to have a much harder time selling them something they do not find useful or valuable. On the other hand, you could be a huge success if you have an audience and you offer something extremely valuable.
The idea is to be able to look into how much value your product or service truly has. If you have been struggling, it is very likely that this is caused by a product that has no significant appeal.
Are You Selling That Product for a Good Price?
Some people make the serious mistake of trying to charge too much money for their products. They see other membership sites that have very high prices and plenty of sales, but they don't realize that most of those sites have built a reputation and a level of authority that helps them boost their prices and still get people to buy.
You want to offer low prices even if your profit is low. This is important because it helps you build that authority that will allow you to charge higher prices in the future. Just be patient and you are going to start seeing the value of starting out with low prices.
The problem is when you decide to start out with expensive products and you have no authority or reputation built up at all. This is going to make the process of selling our products extremely difficult. If this has been the case for you, this has most likely been a very important factor.
Are You Known in Your Niche?
If you have no presence at all online and you are starting from scratch, you better be ready to spend a long time just trying to make your way into the radar of your target audience. When you have no credibility, you are going to be working extremely hard just to convince people that you are selling something worth their time.
This links perfectly to the last question about your product price. If you have no presence and no credibility, you can't charge high prices and you can't expect people to believe in the quality of what you are selling. With that said, it's important to consider that this is not a requirement for success with a membership site, but it does play a major role in terms of how long it will take for you to get there.
Did You Conduct Any Research?
If you decided on creating a membership site based on a unique idea, you might want to consider just how much value this truly has and how many people would be willing to pay for it. Sometimes people have ideas that sound great on paper, but once they advertise it and they try to sell it, they realize that no one is interested in buying it.
Before you decide to invest time and money in any kind of membership site product, you should conduct some basic consumer research first. A very easy way to do this is to talk to family and friends and ask them if they would be interested in a product that you are selling. Tell them to be completely honest with you because a dishonest opinion just to make you feel good is going to hurt more than your ego.
Once you have asked a good number of people you will begin to get a good idea of what you can expect when you start selling. We would suggest conducting extensive research with as many people as possible. Once you have asked dozens of people and no one seems to show any interest, you might want to consider an alternative.
A good way to avoid wasting time is to come up with at least two different product ideas and ask people about both of them. This way you get feedback for both ideas at once.
Final Thoughts
Creating a membership site is quite easy, but making sure that you have a product that is worth buying and an appropriate campaign to go with it, is not as simple.
This is why it's important to make sure that you cover the basics before you even get started, this way you won't have to be asking yourself why you failed to achieve any results. With proper preparation, success is just around the corner!
The Elevator Pitch
Why Choose Brilliant Directories
We'll make it short and sweet:
We Know Membership Sites — We've taken care of all the heavy lifting so you can focus on growing your membership community and getting users signed up.
Access to Expert Support — We know you have questions... Our dedicated support team works 'round the clock to quickly resolve any technical issues.
Trusted by 30,000+ Websites — With over 10 years of experience, we understand the unique needs of online membership communities.