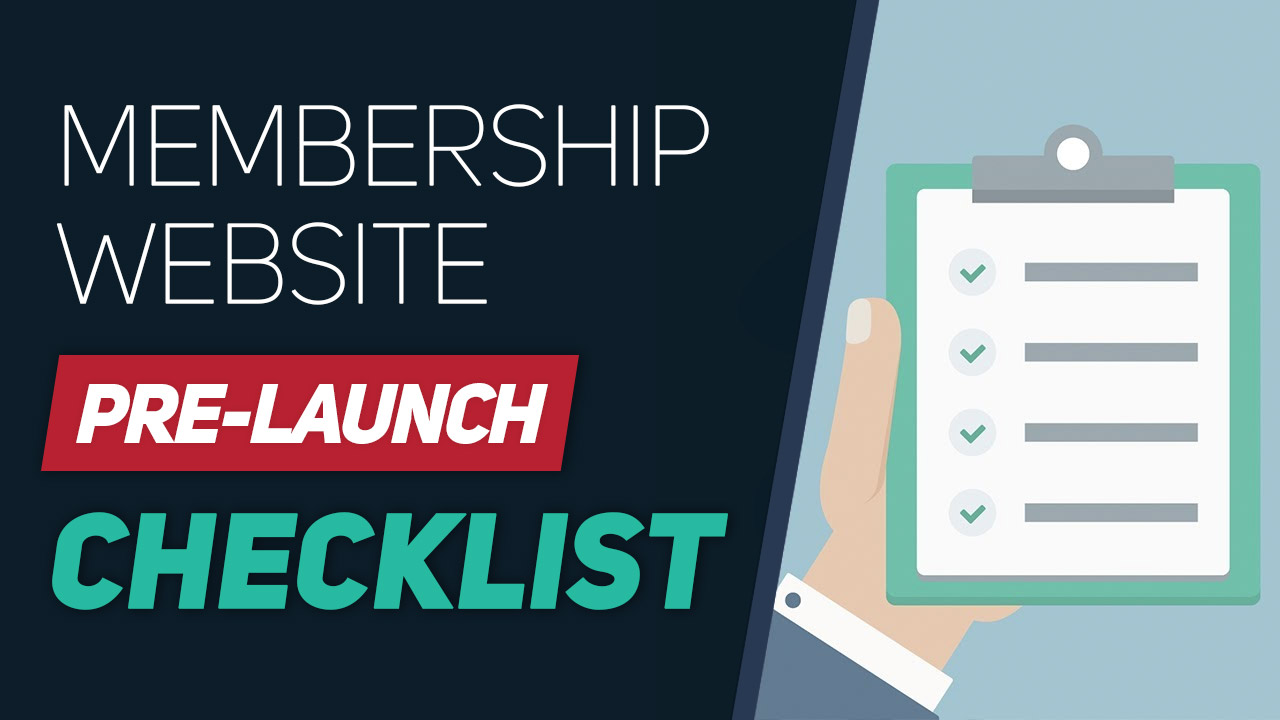 ---
A successful membership business can be successful with a little strategic planning before getting started. This is the earliest stage of this process, and it's important to engage it properly to get started on the right track.
We all know how alluring it can be to consider starting a membership business because of how profitable it is, but a solid foundation is going to play a major role in your level of success.
---
---
We are going to give you a list of seven essential things that you need to validate before you start your membership business venture. If you can take a few moments to plan out some key elements of your membership website, then you'll feel more in control and confident while setting up your site and marketing it to new members.
To be successful, these are the questions you need to ask yourself…
1. What Problem Will You Be Solving?
It important to research and find out what kind of problems your membership site can solve for your audience. If you focus on solving one main problem for your members, you make things easier in the setup process of your site and stand a higher chance of helping your business grow. Do your research and find out what kind of problems you can fix for your audience.
Learning exactly what problem you aim to solve before you decide things like your business name or logo, will make it much easier to reach an audience that is going to convert.
2. Will Your Website Provide Ongoing Value?
Some people feel like the biggest problem they have with their membership site is that they don't have enough returning customers. This is the reason why you need to make sure that your website solves a problem that your clients will need to solve on a constant basis.
For example, you want to avoid giving a member of your site every detail there is to know or take advantage of everything you have to offer in just one interaction. This defeats the purpose of a membership site and it would ruin your business completely.
Make sure there is always room for expansion when it comes to the learning aspect of a product or service. If you are solving a problem, you should also make sure that this is a recurrent problem, or to make it even clearer, a problem that is constantly evolving. Long-term support is the key to a successful membership site.
3. Is the Value You Provide Economically Sustainable?
Keep in mind that a membership site is meant to be a premium source of information and value. You want to make sure that the revenue you generate from membership fees outweighs the cost of keeping your membership community online. This is the reason why step 1 in this guide is important to know that you have a clear problem you're hoping to solve.
If you can establish that there is a valid problem to solve… and you are able to offer a service/solution for that problem at a low or reasonable cost (to yourself), then we can assume that you have a strong chance of creating a profitable membership community.
4. Is There an Audience for What You Are Selling?
You might know a few people who have told you they have the problem you are planning to solve, but this does not mean the solution for that problem is on high demand. You need to find out if there is a sustainable audience out there that needs that particular problem solved.
Keep in mind that you are only going to be able to attract a percentage of the existing audience even if your marketing efforts are efficient. This means that you need to make sure there is enough of an audience to ensure that your membership business is going to be viable.
There are some cases when you find a gap in the market, but this doesn't always mean that if you market to that portion of the market that it will generate any meaningful revenue. Just remember that a gap in the market does not necessarily mean there is a market for that gap. So always remember to get feedback from potential and active users along the way. You may realize that you need to pivot or slightly modify the problem you're aiming to solve.
5. Is the Audience Willing to Pay?
There are several factors to consider when you are looking into the actual market value of your solutions. For example, if you start a membership website teaching people how to become successful online marketers, you are going to find that your competition is huge.
If you start a membership site with tips on online marketing (as an example), you might notice that your conversions are low because there is already so much free information on marketing available online. This is a great example of this situation.
In this case, there is indeed an audience for what you are selling, but that audience might consider that there is enough free information out there. When this happens, you need to make sure that you can market your premium content as extremely effective, high value and top secret.
It needs to be the kind of stuff that no one gives away free of charge. With that example in mind, think of your own situation and make sure that you have an audience that is both willing and capable of paying.
6. Do You Believe In Yourself to Get Started?
Even with all the planning in the world, sometimes the most important step is taking action – even if it's imperfect (it always is). If a tree falls in the forest and there is no one around, does it make a sound? In a similar example, if a business has a perfect product, but it never gets launched, is it going to generate revenue?
Well, the tree does make a sound even if no one is around to hear it, but you can be sure that no one is going to sign up to your membership website unless you launch it and people are aware that it exists.
This means that you need to start somewhere so you can get your idea off the ground. And after it's launched, try to get the word out to prospective members. Here are some common and simple ways to reach your target audience: blog articles, newsletters, social media, trade shows, word of mouth, viral videos and other marketing tools.
Look at it this way – if you don't attempt your idea after conducting some basic market research, then you will never know if your idea is going to work or not.
Thankfully there are solutions such as Brilliant Directories that can quickly and effectively get your idea online at a relatively low cost.
7. Can You Dedicate Time Each Week to This Project?
If you believe that this is something that is truly rewarding and you feel passionate about this business model, you are going to get excellent results from your efforts. On the other hand, if you are just doing this because you heard the buzz and you want to capitalize on it, you might not be committed enough to make it work.
---
---
A membership website is not a get rich quick scheme. But instead, you can organically grow a solid and loyal following of members. You can provide true value in a market you are knowledgeable and passionate about.
If you can answer these seven questions with well thought out answers and dedicate reasonable time to your membership website business you shouldn't have any problems attaining success.