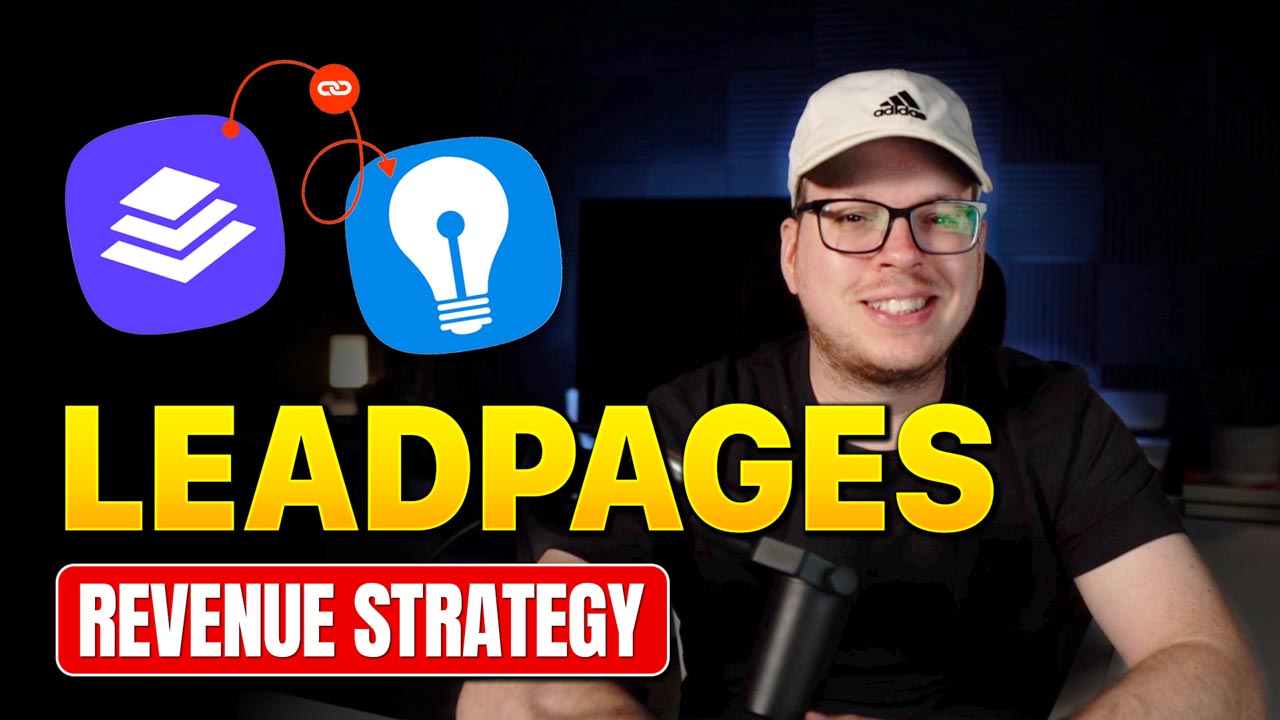 ---
Congratulations, savvy Leadpages users! If you're ready to take your brand growth to the next level, you're in for a treat.
Imagine a world where every lead you generate through Leadpages seamlessly flows into your own Member Community Website, keeping them engaged with your brand and supercharging your revenue streams. This is not a distant dream – with the power of integration tools like Zapier or Pabbly, you can turn this into a reality.
Unlock the Power of Automation for Brand Growth
In this article, we're diving headfirst into the incredible possibilities that await when you integrate your Leadpages contacts with Brilliant Directories. No more manual data entry or missed opportunities. It's time to harness the potential of automation to create a vibrant community around your brand and maximize your revenue channels.
So, buckle up and let's explore how these tools can help you achieve extraordinary growth!
Gone are the days of sifting through spreadsheets and manually transferring contact information. Zapier and Pabbly are here to revolutionize the way you manage your leads and contacts. By connecting Leadpages with Brilliant Directories, you're opening the door to a multitude of benefits that directly impact your brand's growth trajectory.
What are Zapier and Pabbly?
In the exciting world of digital marketing and brand expansion, efficiency is the name of the game. That's where tools like Zapier and Pabbly come into play, acting as your trusty sidekicks on the journey to seamless integration and streamlined processes.
Think of Zapier as a bridge that connects different apps, allowing them to work together harmoniously. It's like having a magical assistant that takes care of tasks you used to handle manually. With Zapier, you can create 'Zaps' – these are automated workflows that trigger when a specific event occurs in one app and initiate an action in another.
In our context, Zapier enables you to effortlessly move data from Leadpages to Brilliant Directories, ensuring that your leads smoothly transition into your community website.
Pabbly, on the other hand, is another powerful automation and integration platform. It allows you to create workflows, known as 'Workflows', that connect different applications and data sources to streamline your operations. With Pabbly, you can set up automated actions that help you manage your data, contacts, and communication effortlessly.
This means that your Leadpages leads can seamlessly flow into Brilliant Directories, nurturing your community and driving revenue without breaking a sweat.
Both Zapier and Pabbly are designed to save you time, reduce errors, and unlock the full potential of your data. They eliminate the need for manual data entry and repetitive tasks, freeing you up to focus on what truly matters: building strong connections with your leads and community members, and growing your brand in ways that were once thought impossible.
Benefits of Integrating Leadpages with Brilliant Directories
Seamless Lead Transfer: No more lost leads! With integration in place, your Leadpages contacts effortlessly make their way into your Member Community Website, ensuring no opportunity slips through the cracks.
Enhanced Engagement: Automation allows you to keep your contacts engaged with your brand immediately after they opt-in. This instant connection sets the tone for a strong and lasting relationship.
Personalized Experience: Tailoring your interactions becomes a breeze. With data at your fingertips, you can send targeted messages and offers that resonate with your contacts, boosting conversion rates.
Community Building: Your Member Community Website becomes the hub where your contacts can interact, share experiences, and form a community around your brand, fostering loyalty and advocacy.
Diverse Revenue Streams: Now, let's talk about the revenue channels you can tap into:
a. Membership Subscriptions: Convert leads into paying members, generating recurring revenue.
b. Premium Content: Offer exclusive content or resources that require a subscription, adding another income stream.
c. Directory Listings: Allow contacts to showcase their services or products in your directory, charging them for premium listings.
d. Events and Webinars: Host paid events or webinars exclusively for your community members.
e. Partnerships and Sponsorships: As your community grows, attract partners and sponsors who want to connect with your engaged audience.
Remember, every point here is vital because they contribute to building a thriving ecosystem around your brand. It's not just about selling – it's about creating value, fostering relationships, and nurturing a community that believes in your mission.
Integrating Leadpages with Brilliant Directories using Zapier
Step 1:
Sign Up and Log In
Begin by signing up and logging into both your Leadpages and Brilliant Directories accounts.
Step 2:
Set Up Zapier Account
If you haven't already, sign up for a Zapier account and log in.
Step 3:
Create a New Zap
Once you're in your Zapier dashboard, click on "Make a Zap!" to start the process.
Step 4:
Choose Trigger App (Leadpages)
Select "Leadpages" as the trigger app from the options provided. Then, pick the trigger event that matches your needs, like "New Form Submission." Connect your Leadpages account by following the prompts and granting the necessary permissions.
Step 5:
Set Up Trigger
Specify the exact Leadpages form that will activate the sync. To confirm that everything's working as expected, test the trigger by allowing Zapier to fetch sample data.
Step 6:
Choose Action App (Brilliant Directories)
Now, select "Brilliant Directories" as the action app. Within this step, you'll choose the action event – typically something like "Create Member."
Step 7:
Connect Brilliant Directories Account
To establish the connection, provide the required API credentials or authorization for your Brilliant Directories account.
Step 8:
Map Data Fields
Here, you'll align the data fields from your Leadpages form with the corresponding fields in Brilliant Directories. Make sure essential information such as names, emails, and custom fields are accurately mapped.
Step 9:
Test the Action
To verify that your setup is functioning correctly, run a test action. This essentially means creating a sample member in Brilliant Directories using the information from a sample Leadpages form submission.
Step 10:
Turn On Your Zap
Review your Zap settings to ensure everything is configured correctly. Once you're satisfied, activate your Zap by turning it on.
Step 11:
Monitor and Refine
Now that your automation is live, keep an eye on it. Regularly check to see that new contacts from Leadpages are smoothly becoming members in Brilliant Directories. If needed, refine the process for optimal performance.
That's it! You've successfully set up an automated integration between Leadpages and Brilliant Directories using Zapier.
Now, every time a new contact opts in through your Leadpages forms, their information will seamlessly flow into your Brilliant Directories community website, helping you keep your contacts engaged with your brand and maximizing your revenue channels.
What to do next…
So, Leadpages enthusiasts, it's time to make your brand's growth story legendary.
By integrating Leadpages with Brilliant Directories through Zapier, you're not just streamlining processes; you're creating a dynamic, engaged community that's eager to connect with your brand on a deeper level. The days of missed opportunities and disconnected leads are over – automation is your superpower.
Embrace the possibilities, harness the automation, and watch your brand soar to new heights.
Get ready to generate revenue, build relationships, and inspire brand loyalty like never before. Your brand's journey towards exponential growth starts now!
FAQ about Leadpages, Zapier, and Pabbly
What is Leadpages?
Leadpages is a powerful and user-friendly landing page builder that helps businesses create high-converting landing pages, pop-ups, and alert bars without requiring any coding knowledge. It's designed to assist in capturing leads, growing email lists, and driving conversions through beautifully designed, mobile-responsive landing pages.
Does Leadpages integrate with Zapier?
Yes, Leadpages integrates seamlessly with Zapier. Zapier acts as a bridge between Leadpages and various other apps, allowing you to automate workflows and connect Leadpages data with other tools, like email marketing platforms, CRMs, and more. This integration enhances the versatility of your Leadpages campaigns by enabling data to flow smoothly between different applications.
Does Leadpages integrate with Pabbly?
As of August 2023, Leadpages doesn't have a native integration with Pabbly. However, Pabbly is known for offering powerful automation capabilities, and it's possible that there have been developments since then. Check both Leadpages' and Pabbly's official websites for the most up-to-date integration information.
What Leadpages Data Can I integrate with Brilliant Directories?
Through integrations like Zapier or potentially Pabbly, you can sync various Leadpages data, such as contact information gathered from opt-in forms. This might include names, email addresses, phone numbers, and any other fields you collect from your leads. This data can then be automatically added to Brilliant Directories, making it easier to engage your leads within your community website.
Does Leadpages work better with Pabbly or Zapier?
Both Pabbly and Zapier are excellent tools, but their focus and features differ slightly. Zapier is a widely used integration platform that connects numerous apps, including Leadpages, with a vast array of other tools. Pabbly, on the other hand, offers a comprehensive suite of automation tools, including form building, email marketing, and more. The choice between Pabbly and Zapier depends on your specific needs – Zapier for connecting apps and automations, Pabbly for a suite of related automation functions.
What Leadpages Alternatives Integrate with Zapier?
Several alternatives to Leadpages integrate seamlessly with Zapier, expanding your options for creating efficient marketing and automation workflows. One such alternative is Unbounce, a popular landing page platform that allows for easy design and customization. Instapage is another option, specializing in personalized landing pages with optimization features. For those seeking to build sales funnels, ClickFunnels offers a robust platform, while Wishpond combines marketing automation capabilities with landing page functionality. Each alternative brings its own strengths to the table, so you can select the one that aligns best with your business requirements and integrates smoothly with Zapier. Always check the most up-to-date integration information on their respective official websites.