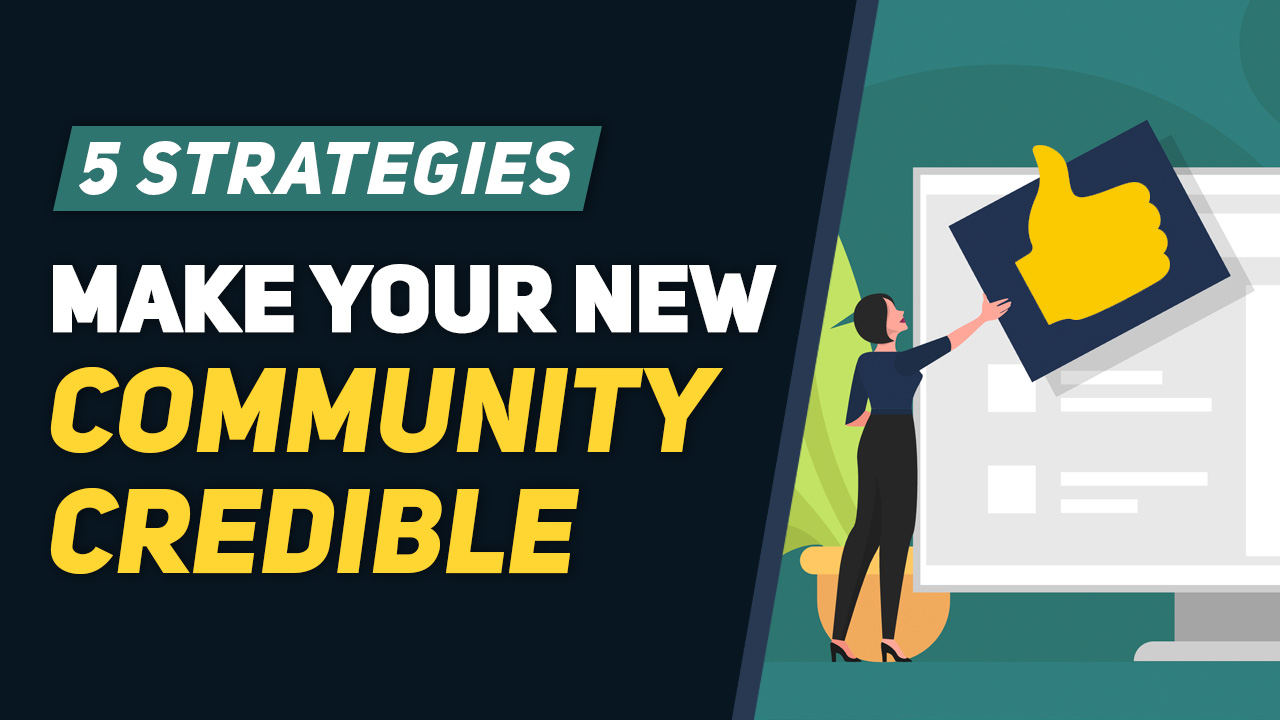 ---
This Tip of the Week covers topics including:
1:07 – Your New Website Is Ready to Go But…
2:25 – 1) Set Up Social Media Accounts
6:32 – Be Active on Social Media
7:16 – Schedule your social media posts with Hootsuite
8:30 – 2) Strong About / Mission Page
14:54 – 3) Your First 100 Members
17:01 – Start by adding some initial content
20:53 – 4) Get A Professional Logo Made
26:37 – Great Logo Examples
28:06 – 5) Pay For Press
33:02 – Summary
This is a segment from Webinar Wednesday 119, recorded live on August 11, 2021.
---
So your membership website is now off the ground and making modest gains. Our ongoing goal is maintain a level of growth for our community. To do that, we need to prove that our website and community are credible. In this article, we are going to cover five vital tips to help boost your membership website's trustworthiness.
The Wheels Are In Motion…
You've already identified a problem within your target demographic, market or niche and you are offering a solution via your membership website and community.
You have a strong domain name that tells potential members what your site is about, your homepage is welcoming and clearly communicates a message and you have a simple sign up page.
You have also started building your community with your very first registered members and your messaging is clear and to the point.
So Your New Website Is Ready To Go But…
Because your membership website is still the new kid on the block, most people aren't yet sure if your website and community are trustworthy. That's where these tips come in, to help you gain more traction and momentum for your membership site.
Here are the five tips you can execute for your online community right now to start adding credibility:
1. Set up Social Media Accounts & Be Active on Social Media
Set up social media accounts for your website and start growing them. Creating a Facebook Page or group and letting it stagnate won't be enough. You need to consistently post engaging content so that your followers can learn to identify your content with your brand.
You do not need to set up social media accounts on every platform. You first need to identify your target demographic. If you have a membership site targeting professionals, you need to find out which social media platform these professionals spend their time on, such as LinkedIn, and start being active on that platform.
If you're targeting young adults or are focussing on the fitness community, then Instagram might be the social network to establish your brand on.
Boiled down, focus your time and energy only where your target demo congregates. There's no need to create an account on Pinterest if your target audience isn't spending time there.
Your brand awareness will grow as your social media content is shared and consumed by more people, so encourage your followers to share your content. Ultimately, however, your content will need to actually be shareable. An easy way to help with this is to make sure you're using or sharing high quality images and videos.
Going a step further, if you have set aside a marketing budget, you can engage in highly targeted advertising on social media.
2. Have A Strong About/Mission Page
The most important thing about having a strong About Us or Mission Page is that it passes along concise and clear information letting visitors know exactly what you and your brand are about.
People want to know that behind the website there is a real human being they can connect with.
When people see the meaning and purpose of your online community, they'll have an easier time deciding if they'll be a good fit in your community.
Give people a clear understanding of exactly what it is you are offering. To help with this, you can introduce your prospective members to the team that is behind the website. Your About Us page should have short profiles (with images) of your team and the roles they play. And if you alone make up your team, share your background on the About Us page so visitors know you have experience in the space you are targeting.
3. Your First 100 Members
Your first 100 members are will arguably be your most important members. They will be the backbone of your community, and they are the people that your future members will initially connect with.
Therefore, you need to connect with each one of your first members! They can help you streamline many things on your site. Ask them to give you feedback regarding some of your features, such as what they think you can improve on.
Welcome these early adopters by offering them early bird discounts. You can also feature them (with their permission) on your homepage. New members will trust you more if they see that others trust you.
4. Get A Professionally Designed Logo
Your logo is the first interaction most people will have with your brand. That is why it needs to stand out and be memorable at the same time.
Hire a freelance designer on Upwork, Fiverr or any other freelancing platform to create the logo for you. If a professional does it, the logo will have a better shot at communicating the concept behind your brand.
They will design it in different formats for different social media platforms and make your community as a whole appear more professional. For instance, depending on sizing, your Twitter logo may be different from your Instagram and Facebook logos and/or profile banners.
5. Pay for Press
If you want immediate online exposure, you can pay for press. This means publishing your press releases on different PR websites and directories, such as PRweb, for immediate exposure online. The main benefit with this old-school method is that you can get exposed to an already existing audience.
If you publish your press release in an established industry publication, you gain credibility almost immediately.
You are also almost guaranteed social sharing benefits, better search engine rankings and greater authenticity.
The Elevator Pitch
Why Choose Brilliant Directories
We'll make it short and sweet:
We Know Membership Sites — We've taken care of all the heavy lifting so you can focus on growing your membership community and getting users signed up.
Access to Expert Support — We know you have questions... Our dedicated support team works 'round the clock to quickly resolve any technical issues.
Trusted by 30,000+ Websites — With over 10 years of experience, we understand the unique needs of online membership communities.