Pay Per Post
The Pay Per Post add-on allows you to charge members a set price each time they publish a piece of content to your website. Pay-per-post prices can be set per membership level.
Pay Per Post is a great way to grow your community while being profitable. You can offer free memberships while still generating revenue each time your free members publish content.
---
Key Features and Benefits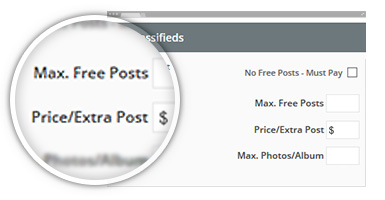 Works with all post types (jobs, classifieds, events, etc.)
Add an additional revenue stream to your website
Set the publishing price per membership level
Use as an up-sell tool for basic listings on your website
Offer free memberships while charging per post published
Charge premium members less per post than basic members
Charge members per post after a certain number of free posts
Greater control over user-generated content with a paywall
---
Requirements for Proper Functionality
SSL Certificate: An SSL Certificate must be installed on your website for security precautions.
Limit Posts Per Member: The Limit Posts Per Member add-on must also be installed on your website for the Pay Per Post add-on to function properly.
The Pay Per Post add-on will function properly once these two additional add-ons are installed on your website.
---
---
MAXIMIZE THE VALUE OF THIS ADD-ON
Book a 1-hour strategy session to review your website with an expert. Learn More