Website Announcement Bar
Add a notification bar with an announcement message to the top of your website to promote deals, news and more.
The Website Announcement Bar add-on gives you the ability to draw attention to an important message you want to share with your website visitors. A call-to-action button can also be included in the announcement bar to link users to a specific page.
---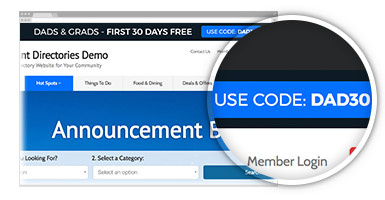 Key Features & Announcement Ideas
Add any text to the announcement bar
Add a button to the bar to link to a specific page
Customize the colors to match your website's design
Highlight a new product or service
Advertise a special or promotion
Link to your most recent blog post
Promote an upcoming event
Share news about a recent award or certification
---
Who Is This For?
Do you have updates to share with your visitors and members? Do you want to add a new call-to-action (CTA) to your website? You probably do. If that's the case then an announcement bar would greatly benefit your site!
Announcement bars have quickly become a popular tool for websites to draw attention to a specific message. Some sites may use announcement bars to highlight promotions or coupon codes. Others might advertise their next event or promote their newest blog post.
The great thing about an announcement bar is that it's easy to update. It's only one sentence! This makes it easy and fast for you to cycle through specials and/or links. Posting your most recent offering for your visitors to see only takes a minute.
---
---
MAXIMIZE THE VALUE OF THIS ADD-ON
Book a 1-hour strategy session to review your website with an expert. Learn More