Admin Activity Tracking
The Admin Activity Tracking add-on is an upgrade to the current Admin Activity feature that is included with all Brilliant Directories websites.
The default Admin Activity feature tracks and logs activity on your website for the past 30 days. With this upgrade you can extend the activity tracking history to store unlimited log records.
---
Key Features
The Admin Activity Tracking add-on is perfect for website administrators who want to keep precise track of everything that occurs on their website – from which admins make website edits to the full history of emails sent to your members. You will be able to always go back to see who did what on your website.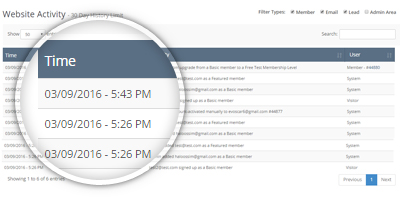 Some of the activities that are tracked include:
Member signups
Member upgrades
Member leads
Membership level changes
Contact form submissions
Emails sent to members
Website edits
And more!
---
---
MAXIMIZE THE VALUE OF THIS ADD-ON
Book a 1-hour strategy session to review your website with an expert. Learn More