Report This Page [Add-On]
The Report This Page add-on will allow you to place a "Report This Page" button in any sidebar on your website. Website visitors can then report the page they are on to the website owner.
Because the "Report This Page" button can be added to any sidebar, all pages using that sidebar will have the button. This is especially useful for placing on member listings and posts.
---
Key Features and Benefits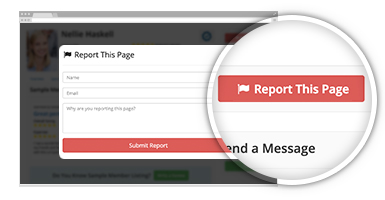 Easily edit the text and icon on the report button
Less need for you to manually moderate all pages on your site
Rely on your community to report pages for various reasons
Add legitimacy to your website and boost user confidence
A reported page is not automatically removed. The website owner ultimately makes the final decision with what to do with the reported page.
---
---
MAXIMIZE THE VALUE OF THIS ADD-ON
Book a 1-hour strategy session to review your website with an expert. Learn More