Reply to Member Reviews Add-On
Want to enhance member reviews? Give your business members the ability to reply to customer reviews posted on your website. Not only will your members love this feature, but it also generates more unique website content — boosting your ranking in search engines.
Most multi-million dollar review websites have this functionality — and now your website can have it too!
---
Key Features to Boost Sales & Conversions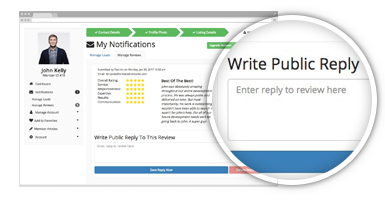 More content for your website
Increased page views and ad impressions
Review responses can be edited
Choose which members can respond to reviews
Keep all communications contained within your website
No contact info is shared between members & reviewers
Members have the opportunity to show credibility
Members can defend themselves in the event of a dispute
---
---
MAXIMIZE THE VALUE OF THIS ADD-ON
Book a 1-hour strategy session to review your website with an expert. Learn More