Members-Only Content
Distributing information online has never been easier. But with technology comes new challenges, such as protecting your premium content or confidential information.
This add-on gives you full control over who can access your website's content by requiring designated "members" to log in before being able to view your premium and protected content.
---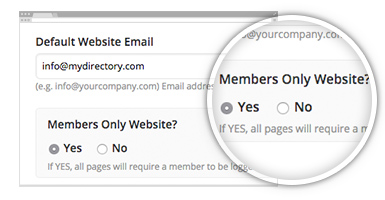 Key Features to Boost Conversions
Publish premium content only accessible by certain members

Establish a private portal to search your membership database

Control content accessibility for individual membership levels

One-click option to set your entire directory website to be members-only

Visitors attempting to access private content will be prompted to log in or create an account
---
Who Is This For?
The Members-Only Content add-on is a great add-on for anyone who wants to restrict content accessibility on their directory website.
This is the add-on for you if you answer "Yes" to at least one of the following questions:
QUESTION 1: Do you want to build a website entirely for registered users and block public access to all of its content?
QUESTION 2: Do you want to limit access to only certain types of content on your directory website?
QUESTION 3: Do you want to limit content accessibility to certain types of registered members?
QUESTION 4: Do you want to encourage member account upgrades by placing specific content behind a virtual paywall?
---
---
MAXIMIZE THE VALUE OF THIS ADD-ON
Book a 1-hour strategy session to review your website with an expert. Learn More