100,000 Member Limit Boost
Is your membership community growing faster than expected? The 100,000 Member Limit Boost increases your website's current membership limit by an EXTRA 100,000 members.
Your Brilliant Directories site already includes space for 10,000 or 100,000 members, depending on your plan. Purchase this add-on as many times as needed to continue your community's growth!
---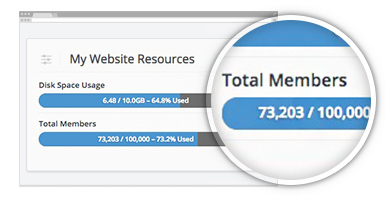 Perfect for Websites That:
Import large member database files
Reach the limits of their member cap
Plan to receive large numbers of new website members
Want to ensure availability for continued membership growth
---
---
MAXIMIZE THE VALUE OF THIS ADD-ON
Book a 1-hour strategy session to review your website with an expert. Learn More