Keywords for Categories
The Keywords for Categories add-on expands the search functionality on your website by allowing you to add your own keywords and tags to individual member categories.
Users performing text searches on your site will be connected with more members. Adding keywords to your categories increases the search value of members within those categories.
---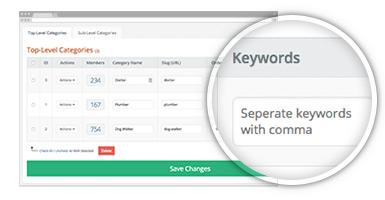 Key Features to Boost Sales & Conversions
Your members will benefit from the additional exposure
Users will be able to connect with more of you rmembers
Avoid saturating your site with redundant category names
Improve SEO by decreasing your bounce rate and increasing overall page views and the time users spend on your site
---
---
MAXIMIZE THE VALUE OF THIS ADD-ON
Book a 1-hour strategy session to review your website with an expert. Learn More