Export Member Data
The data for your website's members is conveniently stored and accessible within your website admin panel. Sometimes it's necessary to export this data to be used for other purposes.
The Export Member Data add-on lets you quickly export specific member data (email addresses, phone numbers and more) into a .csv file that can downloaded and used with other applications.
---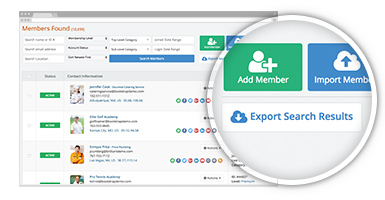 Key Features to Boost Conversions
Export data of all website members with a single click

Exports can be downloaded as an Excel .csv file

Export specific members based on certain criteria such as:

Membership Level
Account Status
Category and Sub-Category
Join Date
And more…

Exported data can be used with other services like a dedicated marketing platform
---
Who Is This For?
Looking to take your Brilliant Directories website to the next level? Utilizing a dedicated marketing platform, Microsoft Excel to use as an offline backup of your member database and many other plans may require that you export your members and all of their accompanying data.
The Export Member Data add-on makes the exportation process as simple as possible — all it takes is the click of a button! You can export your members based on specific criteria, or export all of your members at once. Click the export button and you will immediately get a downloadable .csv file that contains the data of your selected members.
Use this .csv file as an offline backup, import certain information such as email addresses into a third-party marketing platform, send the phone numbers of past-due members to a collection agency… the possibilities are endless!
---
---
MAXIMIZE THE VALUE OF THIS ADD-ON
Book a 1-hour strategy session to review your website with an expert. Learn More