800 Business Categories
Starting a local business directory? Don't waste time manually adding categories or searching the web for hours. With the Essential Business Categories add-on, you'll kickstart your directory and receive 800 business categories.
Save time and focus on more important tasks. Once loaded into your site, you can add, edit and remove categories to your liking.
---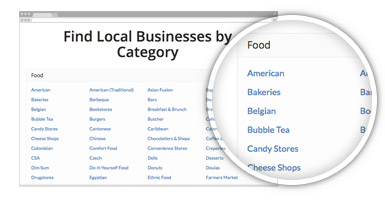 Key Features to Boost Sales & Conversions
Save time when first establishing categories on your website
Edit, remove and add categories to your liking
Boost SEO with essential keywords and additional webpages
Increase visibility for members when listed in more categories
Maximize your website's potential to attract leads
---
Who Is This For?
Essential Business Categories is a great add-on for anyone who wants to quickly and easily set up standard business categories on their new local business directory website.
This is the add-on for you if you answer "Yes" to at least one of the following questions:
QUESTION 1: Do you want to save time setting up and researching what categories you should be adding to your website?
QUESTION 2: Do you want to automatically add valuable SEO-boosting keywords, webpages and search result pages to your business directory website?
---
---
MAXIMIZE THE VALUE OF THIS ADD-ON
Book a 1-hour strategy session to review your website with an expert. Learn More