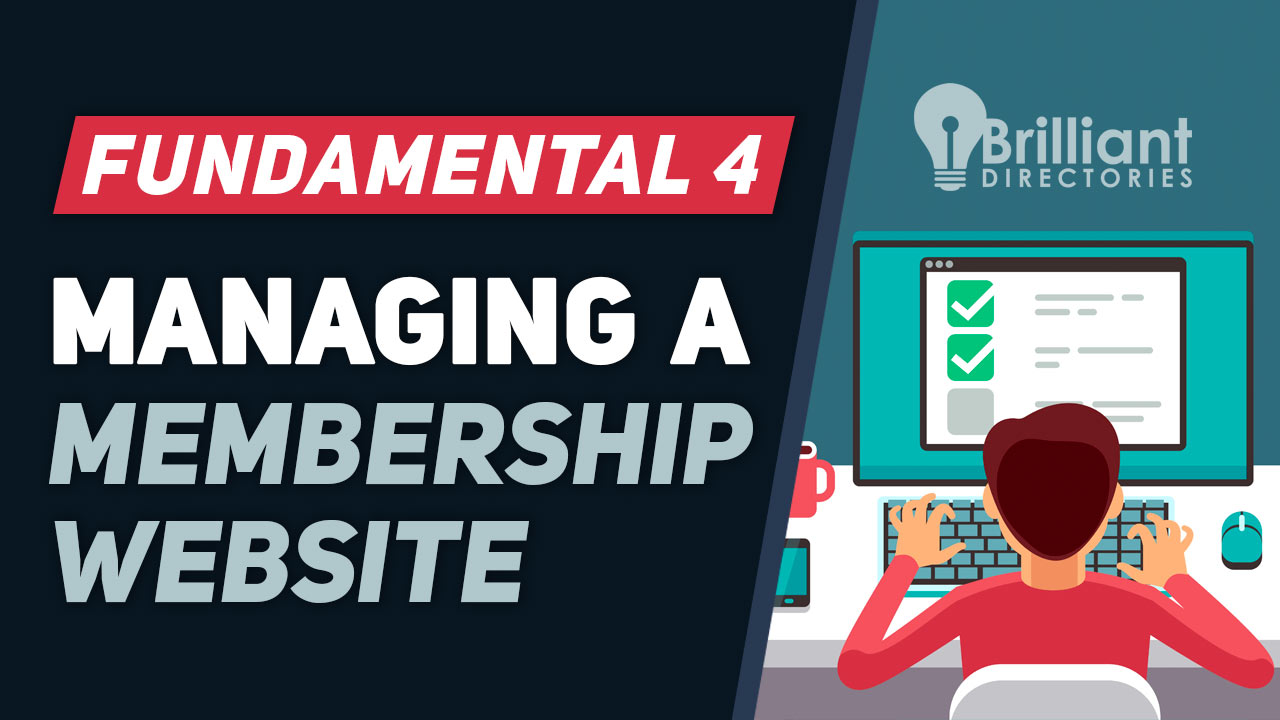 ---
This Tip of the Week covers topics including:
0:51 – Don't Spin Your Wheels…
4:33 – Think of Your Website as a Business – The Fundamental 4
5:18 – 1. Bring Awareness to Your Product
9:06 – 2. Convince Prospects to Buy
14:55 – 3. Convert Prospects Into Members
18:52 – 4. Deliver On Expectations
22:28 – BONUS: Daily Tasks to Keep Your Website Growing
This is a segment from Webinar Wednesday 114, recorded live on June 2, 2021.
---
Not all, but some membership websites just can't find their way off the ground and if they do, it's not quite fast enough. But not to fear! We're going to share with you some important tips that can help you effectively launch and manage your own membership website.
But first, here are a few reasons why some membership sites don't get off the ground:
Endless development… This simply means that you shouldn't get stuck in the hamster wheel of endless website development. If you are stuck in endless development, you will never have the time to market your site.
Overthinking the features your website offers can also make a site too complicated. As long as you have your site at least 80% ready, launch it.
Don't wait for the website to be 100% complete to launch. The sooner your intended audience starts to interact with your website the better and more valuable their feedback will be when you implement it. You can spend months assuming you know what your audience wants and needs, but you won't know for sure until you actually deliver a product to them and ask for their input.
The Fundamental 4

– Treat Your Site as a Business

The most important thing you can do is to treat your membership site as a business. Just as you would do if you had a brick and mortar business, here are the four main things that you should be doing to give your website traction.
1. Bring Awareness to Your Product
Your website may not pick up simply because people are not aware of it. Most often, the reason for this is that you are waiting for them to find you rather than proactively going to where they are.
Once you are clear about who your website and content are targeting, find out where they are spending their time online (meaning the social network they use most). If they are on Instagram, go there. If they are on Facebook, find them there. Preach about your brand.
And depending on your target demographic and industry, you can generate awareness for your website at trade shows, exhibitions and in-person promotions. Also try creating free resources (advice, solutions, and ideas in the form of PDF ebooks, videos, podcasts, etc.) for your target audience. This can introduce them to your brand/website and start to establish a level of trust between you and them.
2. Convince Prospects to Buy
So you've created awareness about your website on various platforms. Now, you need to convince these website visitors and prospective members to purchase a membership.
You need to anticipate their concerns, doubts and show that you understand their needs. If they're going to spend money on your website, they expect to receive value from it.
You can demonstrate that the product you are selling is good. You can do this by displaying genuine testimonials from existing members.
Live demos and video tutorials about how to use your product or service can also convince people to buy, as can showing how much better your product is compared to competitors (if you have any).
Offer consultations and invest more into creating a community by following up with new members and pointing them in the right direction.
Employ the concept of FOMO – Fear Of Missing Out – to get them to sign up and stay.
3. Convert Prospects into Members
You have created the FOMO effect for your prospective members. Now, you want to get them to sign up and become premium members!
Start by making the sign up form as simple as possible. Also, give clear information about the paid membership plans. At least to start, offer a maximum of three membership plans to keep the prospective members' decision making process simple.
You can also offer specials such as early bird pricing where you cut membership plan pricing for a limited time, say, about 60 days. Or offer special holiday pricing.
To make the sign up process seamless, integrate a live-chat function on the sign-up/pricing page so that prospects can reach you easily if they need clarification. People love to know that a real person is behind the website and just a click away if they need help.
4. Deliver on Expectations
The only way to keep your community happy is to deliver on what you promised and go above and beyond, if possible.
You should under-promise and over-deliver to help retain your paying members. Create tutorial videos that you can embed in the member pages so that they can learn how to use the site as soon as they purchase a membership plan. This will help them get started quickly and make some fast progress initially.
Create a "Thank You" page and customize it to suit the new sign-ups. You can also send a thank you email, and ask new members whether they need help. Again, people like knowing that there is at least one real person behind the website who actually cares about seeing the community succeed.
If a member comes to you with a complaint, make them feel heard, address their concern(s), right any wrongs, and maybe even upgrade their membership for free, enroll them in a contest or offer another type of freebie. Remember, we always want to exceed expectations.
Bonus Tips
As a bonus, do these five things to keep your website growing daily:
Avoid endless development – launch at 80% completion
Avoid overthinking website features to include
Send clear and precise messages to your target demographic
Reevaluate how you are meeting your target audience's needs
Market the website
The Elevator Pitch
Why Choose Brilliant Directories
We'll make it short and sweet:
We Know Membership Sites — We've taken care of all the heavy lifting so you can focus on growing your membership community and getting users signed up.
Access to Expert Support — We know you have questions... Our dedicated support team works 'round the clock to quickly resolve any technical issues.
Trusted by 30,000+ Websites — With over 10 years of experience, we understand the unique needs of online membership communities.