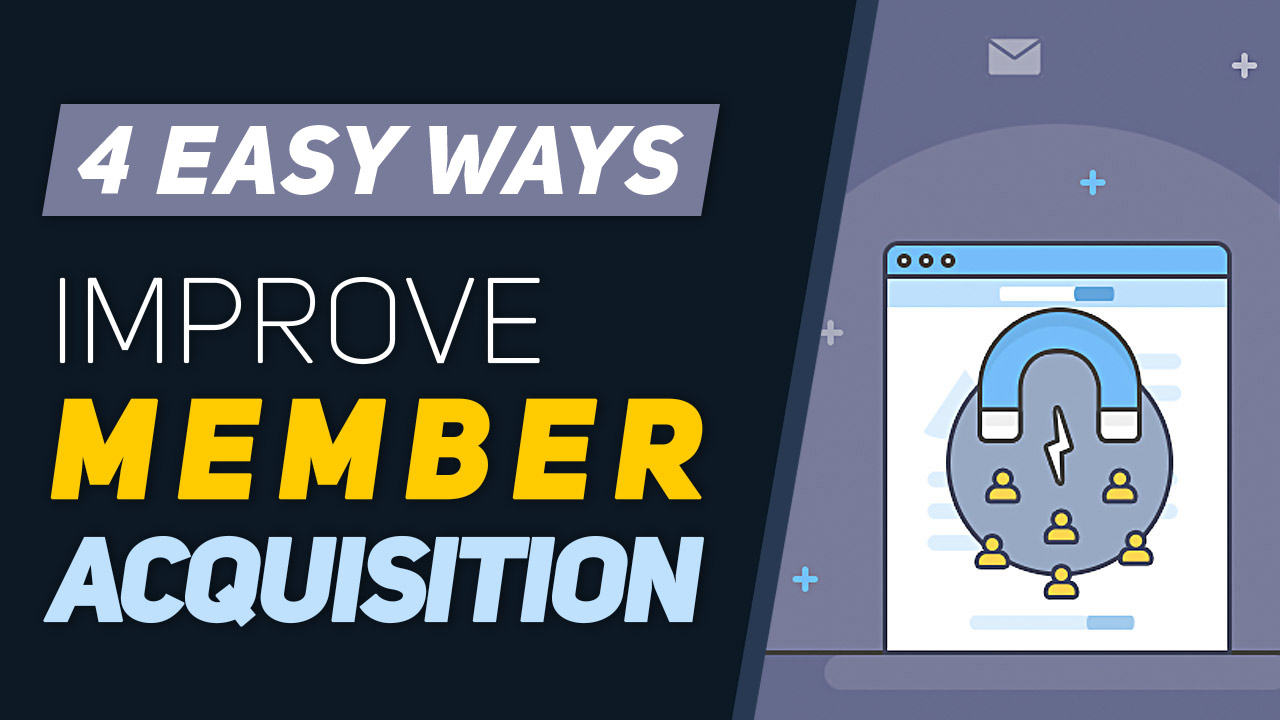 ---
This Tip of the Week covers topics including:
1:04​ – Identify Potential Users – Faster
3:45​ – 1. Focus on Capturing Emails, Not Revenue
6:22​ – 2. Offer Something for Free
9:53​ – 3. High Quality & Presentable Content
15:29​ – 4. Gather & Promote Testimonials
This is a segment from Webinar Wednesday 74, recorded live on October 10, 2019.
---
Member acquisition is one of the primary factors that determines how successful you'll be in attracting new members. It's a crucial step for many types of online businesses but it is particularly important for membership websites that rely on recurring membership dues and revenue.
We live in an age where innovative methods for digitally marketing a company are springing up left, right and center. While this creates a good atmosphere for you to be capturing leads, it also puts you under pressure to compete with the huge number of other marketing teams around you all trying to find the best strategy to achieve the same thing.
Fortunately, member acquisition isn't as complex as you might think…
Provided you make a plan, you can be very efficient in how you go about building your company through member acquisition. So, let's take a look at some ways that you can achieve that.
1. Focus On Accomplishing One Goal at a Time
One important element when creating a plan for member acquisition is to decide your area of focus. Especially when starting out, there are a million things you can be working on. In order to stay organized, focus on smaller wins, milestones and benchmarks in order to keep your resources on nailing one aspect of your member acquisition plan.
"
When you're doing member acquisition, there's a pressure to make a 'success' of things, which is a vague and potentially damaging sentiment. Take it little by little, setting intermittent goals as you go.
— Harry Ernst
Lead Expert at Assignment Help and Academized
A good example of this is instead of focusing on making sales of your membership, you first focus on gathering email contacts, which can be pursued at a later date to transform into fee paying members of the site. People will be more susceptible to being slowly fed into these sorts of sites, not immediately pummeled with demands to buy something.
2. Offer Something For Free
It's no great surprise to know that people like free things. Though consumers are usually somewhat skeptical about free items, they still present an opportunity that is difficult for them to turn down. It also demonstrates other things about your membership site. It shows good will and it shows that you have resources to spend, that you actually have stuff to offer and aren't just gunning after that subscription.
"
One really smart way to use gift giving and free items is as a form of member acquisition. So, if you have developed some sort of guide book or pamphlet for example, you can use that as incentive for your potential customers to hand over their email address for your email marketing team.
— Sandra Wilson
Content marketer at StateOfWriting and BigAssignments
So, as you can see, the old maxim that nothing is ever really free holds true. But the perception of the gift is all that matters in terms of member acquisition.
3. Always Present High Quality Content & Images
It's not easy getting people to pay for a product. It takes real, concerted effort all the time and, worst of all, can be undone by a small detail. There are so many things to look out for in trying to guarantee that you don't alienate your prospective customers but one area that is vital is in the quality of your marketing content.
There's such an onus on companies to create and release content constantly that it can be easy to let mistakes creep in. However, the truth is that it can be completely detrimental, sending out a signal that your company is inattentive, and uninterested in doing its best for its customers.
Getting content that is well-written and cleared of any possible errors through thorough proofreading can be difficult. If you need help in that regard then you should check out services such as PaperFellows, Assignment Service and OxEssays, all of which will have very useful guidance over this area.
4. Push Hard With Your Testimonials
Testimonials are any online company's best friend.
There's an inherent doubt in the backs of people's minds when they begin thinking about spending money on a service over the internet. It's a complex feeling of insecurity which, if it were being dealt with in a store front face to face would be allayed pretty swiftly.
Potential customers are looking everywhere for reassuring signs that will let them subscribe with peace of mind. An overall professional presentation and great communication are excellent aids in this regard. A secret weapon that can continue to help is the simple testimonial.
People trust things that other people seem to trust.
When you are able to get testimonials, use them liberally, emphasizing how well-liked your site is by other regular people.
Conclusion
member acquisition of this sort is an opportunity for experimentation and exploration. There are so many different routes you can take to achieve what you want with it all. This list ought to give you a good place to start, but feel free to adapt and experiment, finding what works best for your site.
The Elevator Pitch
Why Choose Brilliant Directories
We'll make it short and sweet:
We Know Membership Sites — We've taken care of all the heavy lifting so you can focus on growing your membership community and getting users signed up.
Access to Expert Support — We know you have questions... Our dedicated support team works 'round the clock to quickly resolve any technical issues.
Trusted by 30,000+ Websites — With over 10 years of experience, we understand the unique needs of online membership communities.