Auto-Recurring Events Add-On
Want to publish events that repeat daily or weekly? A recurring event is any event that occurs more than once, according to a specified time interval. Recurring events can include team meetings, educational courses, conventions, extracurricular activities and more.
The Auto-Recurring Events add-on eliminates the need to manually repost events that repeat – simply set how often the event should repeat and the Brilliant Directories system will do the rest for you!
---
Key Features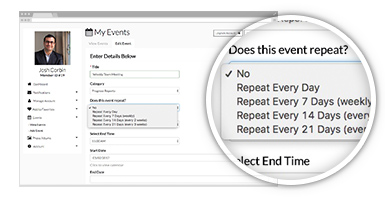 Set events to repeat:
Every day
Every 7 days (weekly)
Every 14 days (2 weeks)
Every 21 days (3 weeks)
Set a start date and end date for the event
Save time by setting an event to automatically repeat
---
---
MAXIMIZE THE VALUE OF THIS ADD-ON
Book a 1-hour strategy session to review your website with an expert. Learn More