Spam Form Protector
Brilliant Directories websites already include anti-spam measures like reCaptcha and honeypots, but spam is relentless. Bots always seem to find a way through a website's defenses.
Enhance your site's form security with Spam Form Protector by defining a set of keywords that you consider spam. The system will then block any submissions that contain those keywords.
---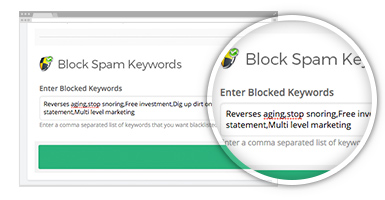 Key Features & Benefits
List the specific keywords/phrases that you consider spam
No limit for how many keywords you can blacklist
Below is a list of recommended keywords to blacklist
Form submissions containing spam keywords will be blocked
Focus your time on your business instead of dealing with spam
Here is a comma separated list of curated keywords and phrases that we have found to be commonly included in spam form submissions. Feel free to edit this list as you see fit.
#1, $$$, 100%, act now, additional income, affordable, all natural, apply now, be amazed, your own boss, beneficiary, billion, call free, call now, cash, casino, cheap, click here, compare rates, cures, dear friend, direct email, don't delete, double your income, free access, get it now, increase sales, increase traffic, make money, order now, prince, risk-free, while supplies last
---
---
MAXIMIZE THE VALUE OF THIS ADD-ON
Book a 1-hour strategy session to review your website with an expert. Learn More