Automatic Lead Matching
All directory websites generate leads from visitors who contact professional members. This add-on allows your site to instantly send leads to members without you manually matching them.
This means members will automatically be connected with leads and have the ability to purchase them in real-time. You'll generate more revenue from your website leads than ever before!
---
Key Features to Boost Sales & Conversions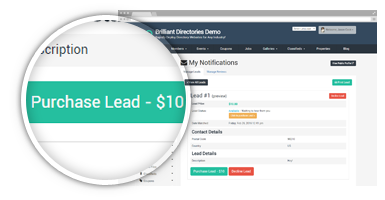 Auto-match leads to selected membership levels
Admin notifications for accepted, declined, or purchased leads
Increase conversions with optimized email templates
Set up custom email flows based on membership levels
Instant email responses to various marketing triggers
Integrate with third-party SMS providers such as Text Magic
Basic Lead
Matching
Automatic Lead
Matching
Lead Matching Features
FREE LEAD TOOLS
WITH THIS ADD-ON
Sell leads to members in your network
Manually match leads with multiple members
Maximum members a lead can be matched with
100 Members
1,500 Members
Set maximum times a single lead can be purchased
Get notified when a new lead is submitted
Match leads based on category and location
Automatically send leads to members in your network
Control which members receive leads automatically
Customize the lead form that website visitors fill out
Customize email templates members receive
Set maximum distance members can be from leads
Get notified when a member purchases a lead
Get notified when a member declines a lead
Get notified when members try to buy sold-out leads
Send SMS text notifications, using TextMagic, to notify members when they are matched with new leads
Send SMS text notifications, using TextMagic, to notify website admins when new leads are submitted
Focus on driving traffic & make money while you sleep
---
Who Is This For?
The Automatic Lead Matching add-on is for customers that are ready to generate revenue and have an influx of leads directed to your website.
If you are just getting started with your website, we recommend holding off on adding the Automatic Lead Matching add-on as it is a solution that your business will grow into.
This is the add-on for you if you answer "Yes" to at least one of the following questions:
QUESTION 1: Does your website drive visitors to fill out a "Get a Quote", "Ask a Question", or "Get Matched" form? With Auto-Matching, each inquiry will instantly get matched to members that meet a specifically defined parameter.
QUESTION 2: Does your website receive weekly leads? With each lead taking up to twenty minutes to fulfill from start to finish (including following up via email during and after the lead is sent to your members), this add-on instantly pays for itself.
QUESTION 3: Want to ensure that your members receive notifications in real-time when they are matched with a new lead? This add-on includes built-in settings to integrate your website with services like TextMagic. TextMagic makes it possible to automatically send SMS (text message) notifications to your members as soon as they are matched with a lead.
---
---
MAXIMIZE THE VALUE OF THIS ADD-ON
Book a 1-hour strategy session to review your website with an expert. Learn More