Brilliant Directories Ranked #1 Directory Software by Capterra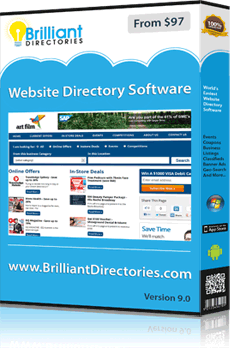 Capterra, an online service that connects buyers and sellers of business software, ranks Brilliant Directories the top reviewed portal and directory software.
Santa Monica, Calif. (PRWEB) October 14, 2013
Capterras user-generated rating system allows buyers to quickly find and compare software in a variety of categories. This helps organizations save time and money.
You can't afford to get it wrong, said Capterra. One in four software buyers are looking for a replacement within 6 months of purchase. You don't have to be one of them. Make your software selection a success!"
The Brilliant Directories enables general users and expert web developers to easily launch directory-based web sites. Its increasing popularity is attributed to the ease of use, versatility and stand-out customer service.
Brilliant Directories is also climbing the ranks in Capterras membership and content management software categories.
Capterra has made it easy to find the best directory software on the market. Its an honor to see users sharing their positive experiences, said Brilliant Directories Co-Founder Jason Haloossim. Our mission is to enhance the directory software and to provide even more built-in awesomeness.
——-
About Brilliant Directories: Brilliant Directories believes that directory software should be versatile, accessible and easy to use. Founded in 2009, Brilliant Directories powers thousands of websites with millions of users worldwide — from local organizations to global enterprises. Visit http://www.BrilliantDirectories.com to learn more.
For the original version on PRWeb visit: http://www.prweb.com/releases/directory-software/directory-script/prweb11212681.htm